Single review bu kev@thesoundofconfusion.co.uk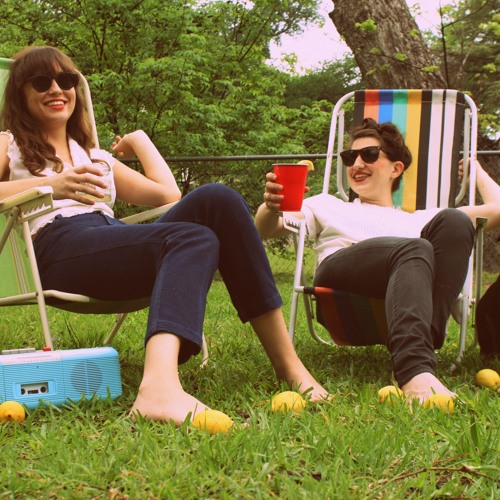 Well they may not be off to the best of starts with a name like
G A L P A L S
, not only does it look a bit stupid (and make us feel like a twat typing it out) and continue this trend of everything being in capital letters, but its US slang origins makes you think it should be the title of some crap show that's a permanent fixture on the E4 rotation. Forget your inhibitions though, because this pair of girls from Austin, Texas are bloody brilliant. They probably don't give a damn what anyone thinks of their music, they're too busy having fun making it and generally, if the video is to be believed, doing whatever the hell they like.
Their knack for so-catchy-it-should-be-in-quarantine garage-pop tunes has already caught the ears of Ty Segall, Crocodiles, Shonen Knife, White Fence, Thee Oh Sees and other high-class acts. If they have more songs like fabulous, effortless debut single 'For Our Sake' waiting in the wings then the offers will surely keep flooding in. Mixing a lo-fi, surfy, garage sound with strong melodies and an enormous amount of natural cool, it won't be long before we're hearing the name G A L P A L S a lot more. A buzz-band in waiting if ever their was one.
G A L P A L S - FOR OUR SAKE
from
cassandra lee hamilton
on
Vimeo
.
G A L P A L S'
website
Pre-order the single
For more news, reviews and downloads follow The Sound Of Confusion on
Facebook
or
Twitter
contact@thesoundofconfusion.co.uk