Single review by kev@thesoundofconfusion.co.uk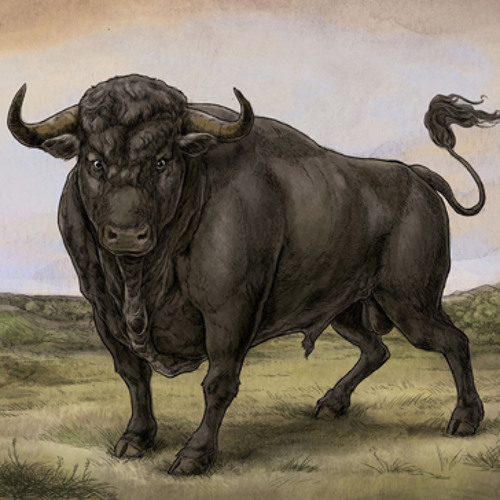 With the Mike Tyson of the cattle world adorning the cover of this single, do Brooklyn's
San Fermin
have what it takes to become heavyweights in the music world? It's genuinely difficult to know. They won't sell as many singles as Miley Cyrus or whoever, but that doesn't mean they can't be heavyweights. What's odd is that the band describe themselves as a pastiche of post-rock, chamber-pop and contemporary classical music. The ringleader being composer and musician Ellis Ludwig-Leone. So this is pastiche then? I'm finding that a little hard to believe. If this is pastiche then what does he consider to be genuine music?
Also, if 'Daedalus (What We Have)' is pastiche then it lifts the covers from the whole of the music world. Many artists are making music of this style that doesn't match this standard. His examples of style are spot on, but so's the song. At a stretch you could maybe say it's a little pretentious, but really is very well written, brilliantly arranged and perfectly produced. Someone, somewhere is having a laugh. Maybe it's San Fermin having a laugh at our expense for taking this seriously, or at other people for dismissing it as he describes it as pastiche when it's not at all. All we can say is that if this is pastiche then we'll happily take it, but we'd be
very
intrigued to hear what he sounds like making "proper" music.
San Fermin's
website
Pre-order the album
Sept 6, Richmond, VA – Fall Line Festival
Sept 7, Raleigh, NC – Hopscotch Music Festival @ Fletcher Opera House
Sept 20, New York, NY – Le Poisson Rouge
Sept 25, Montreal, QC Canada – Pop Montreal @ The Church of St. John the Evangelist
Sept 27, Cincinnati, OH – Midpoint Music Festival
Sept 28, Champaign-Urbana, IL – Pygmalion Festival
Sept 29, Milwaukee, WI – Pabst Theater
Sept 30, Chicago, IL – The Hideout
Oct 1, Minneapolis, MN – Bryant Lake Bowl
Oct 3, Pittsburgh, PA – Brillobox
Oct 4, Toronto, ON Canada – The Drake
Oct 13, San Diego, CA – Casbah
Oct 15, Los Angeles, CA – The Echo
Oct 16, San Francisco, CA – Cafe Du Nord
Oct 18, Portland, OR – Bunk Bar
Oct 19, Seattle, WA – Barboza
Oct 20, Vancouver, BC Canada – The Media Club
Oct 24, Washington, DC – DC9
Oct 25, Philadelphia, PA – Boot & Saddle
Oct 26, Boston, MA – Cafe 939
Oct 27, Providence, RI – Columbus Theatre
For more news, reviews and downloads follow The Sound Of Confusion on
Facebook
or
Twitter
contact@thesoundofconfusion.com