Single review by kev@thesoundofconfusion.co.uk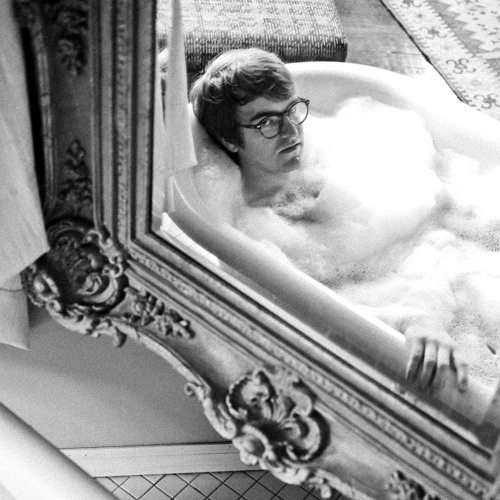 Now it appears that Mississippi musician
Dent May
has ditched the "Magnificent Ukulele Band" part of his name, he's shaping up to release third album 'Warm Blanket' next week with this second single from the set, 'Let Them Talk'. As always with Dent May the music doesn't really compare to many others. He's one of those musicians it's difficult to find a close comparison to. It goes without saying that this is a good thing, and it's earned him plenty of respect from critics and contemporary bands in the past, not least Animal Collective who are well known fans.
How to describe his sound? Easier said than done, but lets have a look at 'Let Them Talk'. A Thumping intro lasts all of two seconds before some casual guitar strums are introduced, not playing any of the regular chord patterns, this is all his own work. His voice is always an asset and possibly his most distinguishable feature. The song is in a way quite jolly, but the lyrics tell a different tale of the perils of living in a small town and the locals openly rejecting a particular relationship he's in.
"Don't let these little minds bring you down, remember that we're lovers... let them hate us... I don't give a fuck".
It sounds like Dent May doesn't quite fit in in many ways, and that's why we love him.
Dent May's
website
Buy the album
Catch him live:
FRI 30 AUG Proud Larry's Oxford, MS, US
TUE 10 SEPT Club Downunder, Florida State University Tallahassee, FL, US
THU 12 SEPT Gasa Gasa New Orleans, LA, US
FRI 13 SEPT Red 7 Austin, TX, US
SAT 14 SEPT Rubber Gloves Rehearsal Studios Denton, TX, US
SUN 15 SEPT Opolis Norman, OK, US
MON 16 SEPT Czar Bar Kansas City, MO, US
TUE 17 SEPT Grinnell College Gardner Lounge Grinnell, IA, US
WED 18 SEPT 7th Street Entry Minneapolis, MN, US
THU 19 SEPT Memorial Union Terrace, University of Wisconsin Madison, WI, US
FRI 20 SEPT – SUN 22 SEPT Boomslang Festival 2013 Lexington, KY, US
FRI 20 SEPT Subterranean Chicago, IL, US
SUN 22 SEPT Broadway's Asheville, NC, US
TUE 24 SEPT Eclipse Coffee & Books Montevallo, AL, US
WED 25 SEPT The Earl East Atlanta, GA, US
THU 26 SEPT – SAT 28 SEPT Midpoint Music festival 2013 Cincinnati, OH, US
FRI 27 SEPT Baltimore House Hamilton, ON, Canada
SUN 29 SEPT Signal Kitchen Burlington, VT, US
MON 30 SEPT Great Scott Allston, MA, US
TUE 1 OCT Brandeis University Waltham, MA, US
THU 3 OCT 285 Kent Ave Brooklyn, NY, US
FRI 4 OCT Milkboy Philly Philadelphia, PA, US
SAT 5 OCT College of William and Mary Williamsburg, VA, US
SUN 6 OCT Duke Coffeehouse Durham, NC, US
WED 23 OCT Fritz's Corner Stockholm, Sweden
THU 24 OCT The Crossroad Club Oslo, Norway
SAT 26 OCT Stengade Copenhagen, Denmark
WED 30 OCT Paradiso Amsterdam, Netherlands
SAT 2 NOV Start The Bus Bristol, UK
TUE 5 NOV Espace B Paris, France
THU 7 NOV King Georg Cologne, Germany
FRI 8 NOV Aalhaus Hamburg, Germany
SAT 9 NOV Feinkostlampe Hannover, Germany
SUN 10 NOV Monarch Berlin, Germany
MON 11 NOV Sankt Peter Frankfurt, Germany
THU 14 NOV Klub Močvara Zagreb, Croatia
FRI 15 NOV Circolone Milan, Italy
SAT 16 NOV Circolo degli Artisti Rome, Italy
SUN 17 NOV Loop Live Club Ancona, Italy
TUE 19 NOV Rhiz Vienna, Austria
For more news, reviews and downloads follow The Sound Of Confusion on
Facebook
or
Twitter
contact@thesoundofconfusion.com