Single review by kev@thesoundofconfusion.co.uk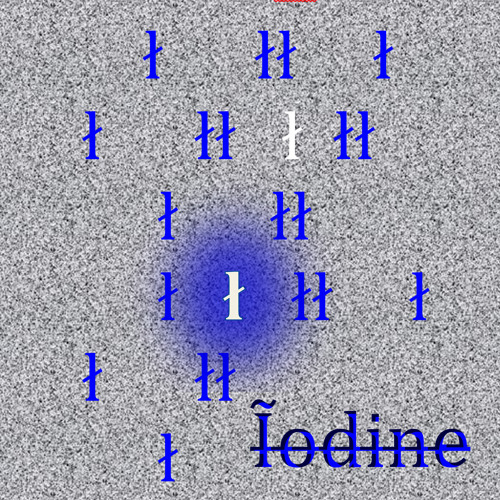 Yet more proof of how Denmark is attempting to conquer the entire world of alternative music; from the noise-rock of Iceage, the alt-country of Kjarten Bue, the indie/guitar-pop sounds of The Rumour Said Fire and the continuing brilliance of veterans The Raveonettes, barely a week goes by of late where we don't find great new music from the country's various scenes.
When Saints Go Machine
are hardly a new discovery, they've been acclaimed and successful since their debut album in 2009. This week they return with new LP 'Infinity Pool'.
As expected, single 'Iodine' is a top tune that doesn't play by the rules and will leave you struggling for a comparison. The mixture of a prominent beat, the blend of analogue and digital electronics with the strange, treated vocals don't quite fit anywhere. Such individuality is the mark of a good band; call it electro-soul, call it indie/alt-pop, can it what you like; it's a little bit of everything. Where this lot come into their own is that they embrace this approach to making new sounds while keeping them accessible, and this is why they're one of the biggest exports Copenhagen has right now.
When Saints Go Machine's
website
Buy the album
Catch them live:
May 29 Concrete, London, United Kingdom
May 31 Immergut Festival, Neustrelitz, Germany
Jun 01 Modular Festival, Augsburg, Germany
Jun 02 Maifield Derby Festival, Mannheim, Germany
Jun 15 Northside Festival, Aarhus, Denmark
Jun 21 Gloria-Theater (c/o pop), Cologne, Germany
Jun 24 Glasslands Gallery, Brooklyn, NY
Jun 28 Kløften Festival, Haderslev, Denmark
Jul 04 Roskilde Festival (july 4 - july 7), Roskilde, Denmark
Jul 12 Phono Pop Festival, Russelsheim, Germany
Jul 26 Appletree Garden Festival, Diepholz, Germany
Jul 27 Juicy Beats Festival, Dortmund, Germany
Aug 01 Trailerpark Festival (august 1 - august 3), Copenhagen, Denmark
Aug 08 Smukfest, Skanderborg, Denmark
Aug 16 Dockville Festival (august 16 - august 18), Hamburg, Germany
Aug 22 Wonderfestiwall (august 22 - august 24), Ronne, Denmark
Oct 10 Pitstop, Kolding, Denmark
Oct 11 Voxhall, Aarhus, Denmark
Oct 12 Studenterhuset, Aalborg, Denmark
Oct 17 Posten, Odense C, Denmark
Oct 18 Vega, Copenhagen, Denmark
Oct 19 Forbrændingen, Albertslund, Denmark
Oct 25 Lido, Berlin, Germany
Oct 26 XoXo Club @ Täubchenthal, Leipzig, Germany
Oct 27 Kranhalle @ Feierwerk, Munich, Germany
Oct 28 Keller Club, Stuttgart, Germany
Nov 01 Gimle, Roskilde, Denmark
For more news, reviews and downloads follow The Sound Of Confusion on
Facebook
or
Twitter
contact@thesoundofconfusion.co.uk