Single review by soul1@thesoundofconfusion.com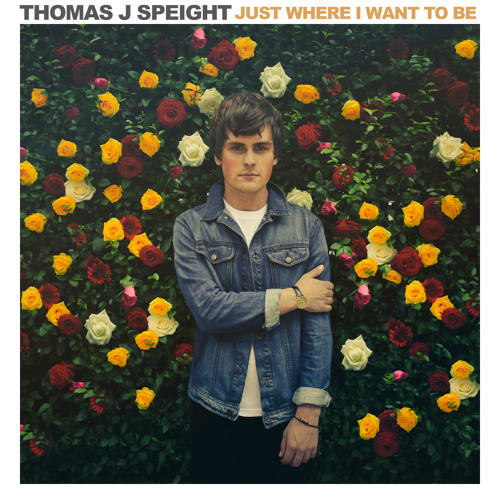 Those who dislike the current wave of actually not very authentic "authentic" singer-songwriters and folk troupes may cringe at the following sentence.
Thomas J Speight
has shared stages with Mumford & Sons, Ed Sheeran and Jake Bugg and collaborated with Keane. Yeah, that might read like a list of pet hates, but for someone who's yet to release their debut single proper, it's undeniably good going to be mixing it with a few million-sellers, however bland they may be. This Londoner could, I guess, be filed in a similar section in the annuls of popular music, but his debut single, 'Just Where I Want To Be' is much better than most of the acts he's crossed paths with.
Those notions you have about a man and his acoustic guitar singing heartfelt songs for John Lewis adverts? Get rid of them. 'Just Where I Want To Be' has more in common with indie-type bands than with sanitised mum-rock. The thumping beat and wealth of instrumentation put paid to that, and the fact that it takes only a few seconds to reach a chorus is also a plus point. We hear about albums having filler, well, songs do too. The clever thing Speight has done here is removed any trace of filler from this track and just got on with it. It's short, positive, optimistic, has a little more punch to it than those other acts, and it should mark the beginning of a promising career for a talented indie/pop/rock musician.
Thomas J Speight's
website
Buy the single
Catch him live:
Mar 04 The Cockpit 3, Leeds, United Kingdom
Mar 05 Bodega Social, Nottingham, United Kingdom
Mar 06 The Enterprise, London, United Kingdom
Mar 07 Glee Club, Birmingham, United Kingdom
Mar 09 The Castle, Manchester, United Kingdom
Mar 10 King Tut's Wah Wah Hut, Glasgow, United Kingdom
For more news, reviews and downloads follow The Sound Of Confusion on
Facebook
or
Twitter
contact@thesoundofconfusion.com