Single review by soul1@thesoundofconfusion.com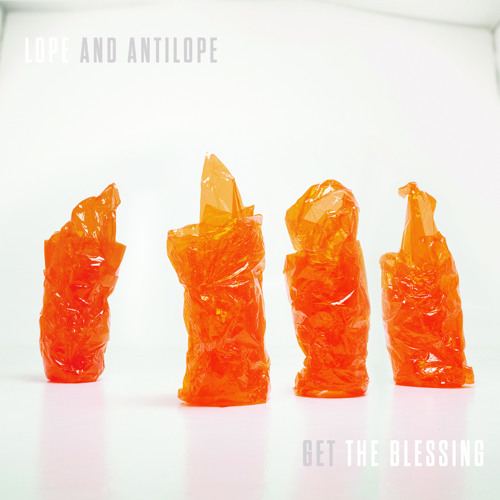 Not for the first time lately (or even this week) we find ourselves thoroughly enjoying a track with heavy jazz leanings. Jazz has had a bad rep for years, and this is no doubt due to the wrongs done by '80s pop groups who attempted to incorporate a sanitised version of the genre into pop songs, plus there's an awful lot of trad-jazz around that's simply retreading old ground. Sure, people know about legends like Miles Davis, John Coltrane and (my personal favourite) the splendid pianist Thelonius Monk, but how many have actually heard many of their records? Outside of the jazz community, probably not many. You might not have heard
Get The Blessing
before, but if we told you they included Jim Barr (Portishead) and Clive Deamer (Portishead, Roni Size) amongst their ranks then you'll likely realise they're aiming to make a new form of music that's heavily rooted in jazz.
'Corniche' does just that, with a snazzy beat from Deamer (arguably the country's finest drummer) and plenty of brass, both as a rhythm-setter and as a lead. The closest likeness to what the band have produced here is possibly the work of composer David Axelrod, so if the"j" word is putting you off then fear not. There's a heck of a groove here and an experimentation that bands from Gyratory System to Slowly Rolling Cameras to Tarana have been playing around with and successfully merging with more conventional music. Perhaps the difference with Get The Blessing is that the members have been involved with so many different projects that have incorporated so many different styles that they have fresh ideas and more than enough pure musical talent to actually have a hope of changing opinions of this variety of music for the better.
Get The Blessing's
website
Buy the album
Catch them live:
14.02.2014Le Triton, Paris, F
15.02.2014Le Triton, Paris, F
18.02.2014 Moods, Zurich, CH
19.02.2014 Rössli-Reitschule, Bern, CH
20.02.2014 Auditorium Gazzoli, Terni, IT
21.02.2014 Folk Club, Torino, IT
02.03.2014 The Capstone Theatre, Liverpool, UK
05.03.2014 Jazz Cafe, London, UK
06.03.2014 Hare & Hounds, Birmingham, UK
09.03.2014 Colston Hall, Bristol, UK as part of the Bristol Jazz & Blues Festival.
10.03.2014 Warwick Arts Centre, Warwick, UK
13.03.2014 Cultuurcentrum Hasselt, Hasselt, B
14.03.2014 Münsterland Festival, Lüdinghausen, D
15.03.2014 Philharmonie, Köln, D
16.03.2014 Karlstorbahnhof, Heidelberg, DE
18.03.2014 Narodni dom Maribor, Maribor, SI
19.03.2014 Treibhaus Club, Innsbruck, A
20.03.2014 Jazzclub Unterfahrt, München, D
27.03.2014 Sheffield University Students Union, UK
29.03.2014 Clitheroe Grand, Clitheroe, UK
03.04.2014 De Casino, Sint Niklaas, B
26.04.2014 Katowice JazzArt Festival, PL
09.05.2014 Like a Jazz Machine, Luxembourg, LU
For more news, reviews and downloads follow The Sound Of Confusion on
Facebook
or
Twitter
contact@thesoundofconfusion.com