Album review by jay@thesoundofconfusion.co.uk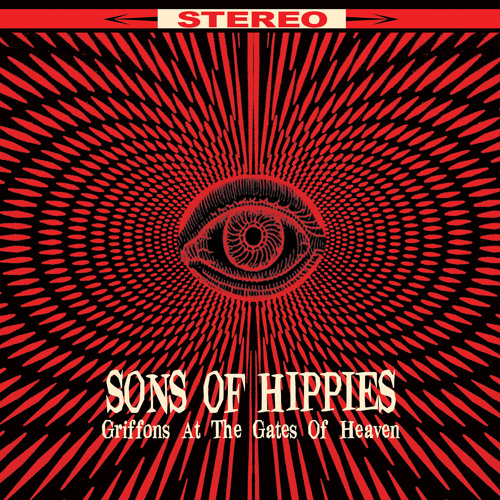 With such a name, you'd expect
Sons of Hippies
to be some '60s pastiche. What they do deliver couldn't be farther from that template. This is powerful, expertly crafted, modern alt-rock. Singer Katherine Kelly has a strong, emotive voice that has a delicious husky edge. Kelly follows in the lead of Chrissie Hyde to Shirley Manson, Karen O and Goodness' Carrie Akre, where they use their voice to enchant and bewitch you. Opener 'Forward' is a kaleidoscopic maelstrom of a song. It has almost tribal undercurrents while it rides a dark, sensual groove, like some oncoming tropical storm; a seductive, enticing introduction. Bright and bolder, 'Mirrorball' spins on crystalline vocal layers as the song dances on its sense of urgency. It ends in a swirling haze of synths. These synths take a stronger lead in the start of 'Dark Daisies'. Then a near industrial edged guitar gives the song huge dynamics, as a crunching riff is spat out, and the song gloriously expands. The whole song then anchors itself down and arcs out in a raw soundscape.
After the controlled chaos of 'Dark Daisies', 'Rose' is fresher with a beautiful pop backbone. The song is a true grower, which digs its self into your DNA. It rushes at you with a summery hit. It now feels that the album has hit its stride, and 'Spaceship Ride' is another sparkling gem of a song. It has vibrancy to it which is impossible to ignore. In a perfectly placed break, filled with some sublime post-punk guitars, we are told
"to turn your radio on"
. The song unexpectedly twists into a perverted cheerleader chant at its close. 'Man or Moon' bolts into view, recalling prime Garbage and their sublime electro/pop/rock. Again it is wrapped in an utterly contagious hook, sinking its teeth deep into you. As we hear of the man
"waiting to jump onto the shoulders of impending doom."
Kelly coats the start of 'Magnets' in a chocolate deep vocal. 'Magnets' is a sweet, simpler song with some rather wonderful high harmonies. It has a near '60s girl-pop vibe that St. Etteine harnessed so well. A perfect pop pill.
'Blood in The Water' falters slightly after such a strong pack of songs preceding it. The start is a touch formulaic, then it recovers itself with biting, sharp vocals and angular fuzzed guitars. Like a sweet sister to the brat of Sleigh Bells. A counterpoint male vocal adds a strong dynamic to 'Whatever We Spend'. It is another strong song that has an effortlessly crafted structure and feel, with a delightful loose break. We are then treated to a slice of twisted majesty as Kate Bush meets NIN on 'Minute By Minute'. A stately riot of a song, which has switchblade sharp changes and huge dynamics. It punches you into blissful submission. 'Animal Battle' pales slightly after the stomp of 'Minute…', it is a near diatribe, Kelly coming on like a young Patti Smith with an angular, discordant feel matching the vigor of the lyrics. And so we find ourselves coming to the close of 'Griffons at the Gates of Heaven', an album that is passionately rewarding and at times seductive and startling in its rewards. Final track 'Cautionary Tale' is just that, warning of the dangers of excess. Another expansive track with one of those shining pop edges that hold you in, allowing you to wonderfully indulge yourself.
Sons Of Hippies'
website
Stream the album in full
Buy the album
Catch them live:
Aug 02 Local 662, St Petersburg, FL
Aug 08 Octave, St Petersburg, FL
Aug 14 The Underbelly, Jacksonville, FL
Aug 15 The 5 Spot, Nashville, TN
Aug 17 Preservation Pub, Knoxville, TN
Aug 18 Karmasonics, Asheville, NC
Aug 18 The Emerald Lounge, Asheville, NC
Aug 20 The Blind Tiger, Greensboro, NC
Aug 21 Velvet Lounge, Washington, DC
Sep 16 P&H Cafe, Memphis, TN
Sep 17 Lindbergs, Springfield, MO
Sep 18 Cicero's, St Louis, MO
Sep 19 The Green Lantern, Lexington, KY
Sep 20 The Comet, Cincinnati, OH
Sep 21 Spitfire Saloon, Cleveland, OH
Sep 24 JR's Bar, Philadelphia, PA
Oct 05 State Theater, St. Petersburg, FL
Oct 12 STPPFE Fest, Washington, DC
Nov 08 cheer up charlies, Austin, TX
Nov 13 Silverlake Lounge, Los Angeles, CA
Nov 16 Bows & Arrows Collective, Sacramento, CA
For more news, reviews and downloads follow The Sound Of Confusion on
Facebook
or
Twitter
contact@thesoundofconfusion.com