Single review by kev@thesoundofconfusion.co.uk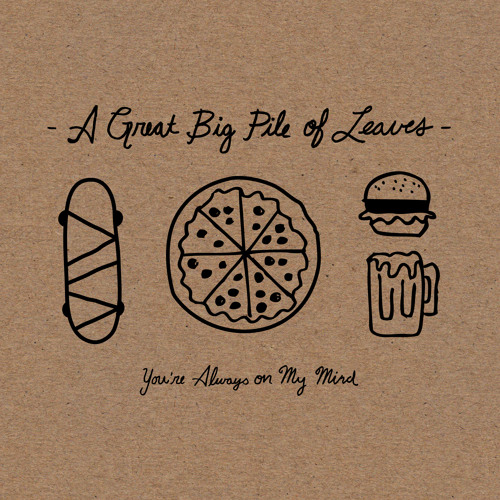 As band names go,
A Great Big Pile Of Leaves
... well, it is one. And it's served this lot from Brooklyn well since 2007 so we can't argue with it, but maybe just wonder why on earth it was decided upon. The band's new album 'You're Always On My Mind' is available now and the first single taken from it is 'Snack Attack'. You can get a good idea of the song's inception from its title and lyrics. Written late at night after watching a TV show called 'Man v Food' when an attack of the munchies hit, and with a lack of decent places to eat open that late, the frustration of hunger was channeled into music instead.
So it all sounds like some stoner rock song, right? Well, not really. 'Snack Attack' has a fairly classic indie/guitar-pop sound that sees the band playing around with time signatures a little, preventing the song from becoming just another alternative pop type number. Despite the stammering beats the track is still quite fluid and doesn't feel as broken up as you may expect. It's always good to see a little extra imagination put into music, even if the subject matter is as mundane as being hungry. Indeed it's tunes like this that help define the quality of a band, and A Great Big Pile Of Leaves have quality.
A Great Big Pile Of Leaves'
website
Buy the album
Catch them live:
Aug 14 Ottobar, Baltimore, MD
Aug 15 The Camel, Richmond, VA
Aug 16 Local 506, Chapel Hill, NC
Aug 17 The Masquerade, Atlanta, GA
Aug 18 Jack Rabbits, Jacksonville, FL
Aug 19 Epic Problem, Tampa, FL
Aug 22 Lee's Palace, Toronto, Canada
Aug 23 The Bell House, Brooklyn, NY
Aug 24 The Space, Hamden, CT
Oct 10 Mojo's, Columbia, MO
For more news, reviews and downloads follow The Sound Of Confusion on
Facebook
or
Twitter
contact@thesoundofconfusion.com