Album review by kev@thesoundofconfusion.co.uk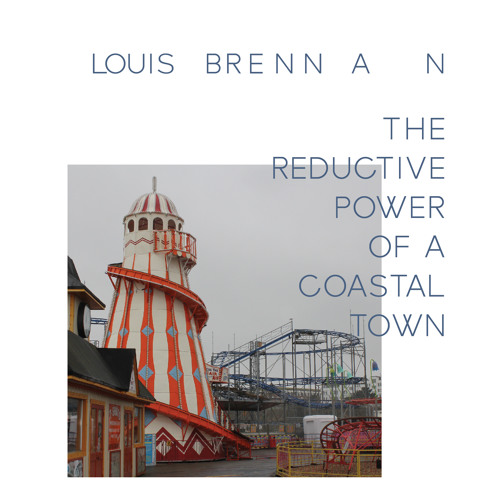 Irish singer-songwriter
Louis Brennan
doesn't really do throwaway pop or nice light-hearted tunes. His album 'The Reductive Power Of A Coastal Town' is a force to be reckoned with. You could draw parallels with Nick Cave or Richard Hawley for the type of power we mean, except here it's every single track that ably carries the weight of emotion on its shoulders, and this makes 'The Reductive Power...' an album that you experience as much as you listen to. There's no escaping the raw passion and the remarkably stirring and intense energy that's been ploughed into this record. Really it's best to drop everything, stick on some decent headphones, sit back and become absorbed in the songs.
Brennan's low-pitched voice dominates the album and this is surely a prized asset; these songs would only work this way in certain hands. Musically though, this is a diverse and experimental album, especially considering it falls into the singer-songwriter category. With sampled speech at the beginning, followed by jittery electronic beats, sometimes backwards instrumentation, a baroque feel and a droning hum permeating the it, first song 'Sum Of My Parts' exemplifies what the aim here is. The title also summarises these songs; they are made from many parts, intricately layered and, truth be told, probably greater than the sum of their parts. 'Fear In The Afternoon' follows and immediately scraps any notions of a formula that you might have. This time a foreboding piano, strange sound effects and percussion and then a turn towards the majestic take the music somewhere else entirely. It's so beautiful that it takes a while before you realise it's about death;
"staring out of lifeless eyes, into the abyss... lips too cold to kiss"
.
It would be all to easy to dissect each song at length and turn this review into an essay, when really it's best to just listen to the thing, not read about it. We're given moody, glitchy electronica on 'Clean Break' and this appears again in more lively form on 'The Towpath' and more experimental form on 'Accidents Will Happen', the vocals are given extra soul when joined by a female singer which helps add some semblance of a lightness to what it a fantastically heavy (in terms of subject matter) album, and this is perhaps best shown on 'Easy Street'. When Brennan sings
"sometimes this weight comes over me"
on '815' you wonder if that weight is ever
not
there, especially on heartbreaking songs like 'The Law Of Diminishing Returns'. The lyrics are exemplary. Everything comes to a head on the passion-filled and pained 'The Quiet Room' before we get the desperate, confused and elegant climax of 'Maps'. 'The Reductive Power...' is a dark and weighty album from start to finish, yet it's always inventive and thanks to the skill of the arrangements, production and writing, combined with those vocals, it's always enjoyable and never a chore.
Louis Brennan's
website
Stream or download the album
For more news, reviews and downloads follow The Sound Of Confusion on
Facebook
or
Twitter
contact@thesoundofconfusion.com