Single review by soul1@thesoundofconfusion.com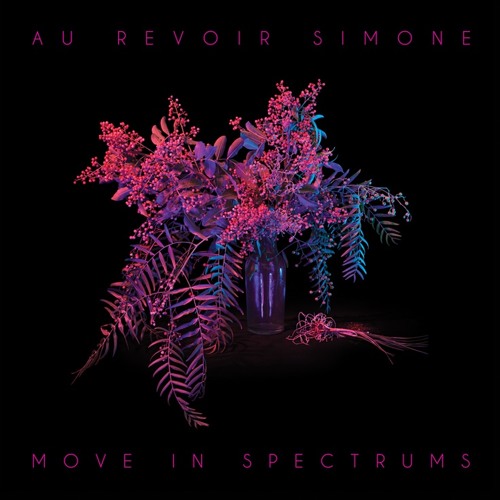 You know how some bands and artists are constantly praised and absolutely adored by the critics and the public? Bob Dylan would be one name; he's considered by many to be the best solo artist of all time. Radiohead would be another; they're constantly found taking up multiple spots in "best album ever" lists. Both are examples of acts that I personally don't care for. Sure, I think some of their stuff is great, but if I was sitting down for an hour or two and could listen to anything I wanted, well, those two probably wouldn't get a look in. To a lesser extent the same has been true of Brooklyn trio
Au Revoir Simone
. Public and critics love them, but for me it took fourth album
'Move In Spectrums'
to fully begin to appreciate what they do, and even then I'd have to conclude it's a good album but perhaps not one I'll revisit very much.
New single 'More Than' may just change that though. The opening track on the album is also one of the best things they've done. The coming together of dreampop, electronic indie sounds and more straight-ahead pop is a potent mix, even bringing to mind some of the more commercial tracks by School Of Seven Bells (RIP). This is a tune that builds and builds, with sultry vocals that take you on a journey where you
"don't care where you're going"
, but when you get there you know it will have been worth it. The chorus is an earworm, and, like the rest of the song, these seem to become more powerful as the track goes on. After breaking briefly for what could possibly be described as a musical form of cinematic suspense; something to build the tension, the vocals rejoin and it all falls perfectly into place for to final flourish. Count me in as being won over.
Au Revoir Simone's
website
Buy the album
Catch them live:
Feb 23 PALOMA, Nimes, France
Feb 24 Connexion Live, Toulouse, France
Feb 28 First Avenue, Minneapolis, MN
Mar 01 The Vic Theatre, Chicago, IL
Mar 03 Danforth Music Hall, Toronto, Canada
Mar 04 Metropolis, Montreal, Canada
Mar 05 House Of Blues, Boston, MA
Mar 07 Webster Hall, New York, NY
Mar 08 Trocadero Theatre, Philadelphia, PA
Mar 09 9:30 Club, Washington, DC
Mar 11 Tabernacle, Atlanta, GA
Mar 12 Civic Theatre, New Orleans, LA
Mar 22 Zouk, Singapore, Singapore
For more news, reviews and downloads follow The Sound Of Confusion on
Facebook
or
Twitter
contact@thesoundofconfusion.com