Album review by kev@thesoundofconfusion.co.uk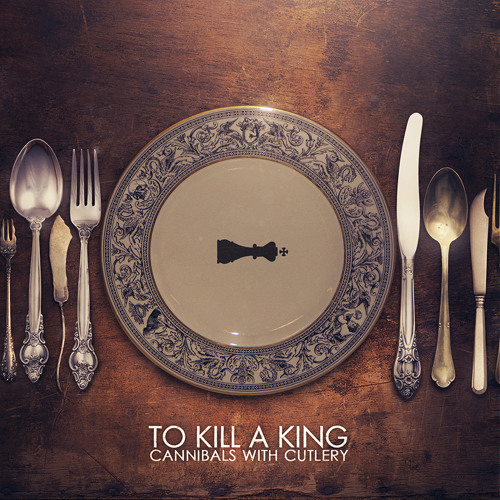 It's often said that the true strength of an album will be tested over time. Travis' blockbuster 'The Man Who' was popping up in greatest album ever lists soon after its release, 'Stars' by Simply Red was named the best album of all time in a Radio 1 poll in the early 90s. I wonder where they'd place now? They probably wouldn't even be in the running. Take other bands such as Love, The Velvet Underground, The Stooges; these guys sold bugger all at the time and all have albums now considered milestones in the journey of rock and pop music. History is littered with others that may, in years to come, be rediscovered and considered classics, inexplicably missed at the time.
To Kill A King
might creep into a couple of end of year lists, but probably no more than that. They're unlikely to be on the receiving end of any negative reviews though.
'Cannibals With Cutlery' is, no question, a very good album. How good we may not know until the year's end, or maybe even several year's time. It could be forgotten about, it could be revered. What we can say with conviction is that there are some stunning songs here. Songs such as the grandiose 'Funeral' and the stop/start beauty of 'Grasp' or the heart-on-sleeve emotion of 'Choices' with its swelling orchestral ending. The shadowy 'Fictional State' mulls over life in an unusual manner before the flurry of instruments joins in for an impressively layered piece of majesty. Many tracks could be compared to The Ugly Duckling; at the start they may not seem like much, but just wait until they're allowed to grow, it almost always results in startlingly grand baroque pop music.
They tackle alt-rock with aplomb too. 'Wolves' could have been written by The National and the upbeat 'Rays' is an instant hit. The acoustic title-track is a cut above most songs that consist of a bloke with an acoustic. There's little doubt that 'Cannibals With Cutlery' will be received with acclaim and having lived with it for a while it continues to grow in power with each listen. It may not end up on a par with the legends mentioned at the start, and it's unlikely to be given the public appreciation that it deserves upon release. So we can only hope that those of us that have been captured by its multi-faceted charms and unquestionable artistry don't allow it to become lost in the mists of musical time. You don't hear songs like these everyday.
To Kill A King's
website
Pre-order the album
Catch them live:
25/02/2013
Banquet Records - Kingston Upon Thames, UK
19/03/2013
The Leadmill - Sheffield, UK
21/03/2013
Rock City - Nottingham, UK
23/03/2013
Solus, Cardiff University Students' Union - Cardiff, UK
25/03/2013
Concorde 2 - Brighton, UK
27/03/2013
O2 Academy Bristol - Bristol, UK
28/03/2013
O2 Shepherd's Bush Empire - London, UK
29/03/2013
O2 Shepherd's Bush Empire - London, UK
02/04/2013
Kasbah Nightclub - Coventry, UK
09/04/2013
HMV Temple Bar - Birmingham, UK
10/04/2013
Scala - London, UK
11/04/2013
Brudenell Social Club - Leeds, UK
12/04/2013
The Ruby Lounge - Manchester, UK
13/04/2013
Nice N Sleazy - Glasgow, UK
18/04/2013
La Parenthèse - Nyon, Switzerland
16/05/2013
The Great Escape 2013 - Brighton, UK
19/07/2013
Deer Shed Festival 4 2013 - North Yorkshire, UK
For more news, reviews and downloads follow The Sound Of Confusion on
Facebook
or
Twitter