Album review by kev@thesoundofconfusion.co.uk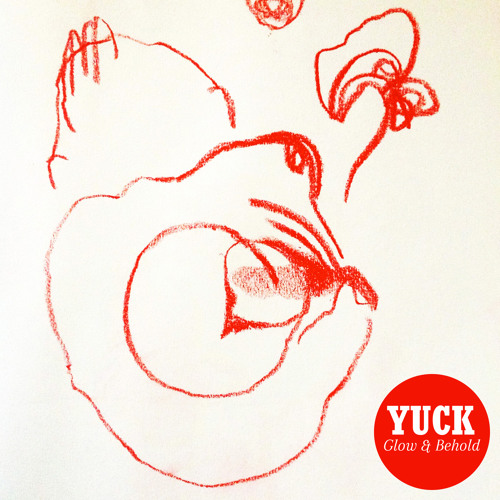 I'm sure most of you know the story, but a quick recap. Cajun Dance Party emerged in the middle of the last decade, just at the right time to become a part of the jerky, indie guitar-pop scene (Good Shoes, The Maccabees first album etc.) and seemed to have everything going for them. They were teenagers, but début (and only) album 'The Colourful Life' was good enough to be considered one of the albums of the decade by our Scottish correspondent (we suggest newcomers start with 'Amylase'). However, frontman Daniel Blumberg decided he'd had enough and left, taking bassist Max Bloom with him. They formed
Yuck
and dialled back the years to a more post-grunge sound with the odd catchy indiepop tune thrown in ('Georgia' still sounds amazing). Their 2011 début drew favourable comparisons to Sonic Youth, Pavement, My Bloody Valentine and so on. It was all going rather well.
Earlier this year (obviously not a man to stay in one place too long), Blumberg announced he was leaving to concentrate on solo work (and already has music out), Bloom stayed with the band who began work on their second album, and took over vocal duties. Being left without one of your chief writers/frontman can ruin a band, or can be the making of them. When Syd Barrett departed Pink Floyd they went on to become one of the biggest bands in history (although many music fans much prefer those first few years), but when co-writer and lead guitarist Bernard Butler left Suede, they threw out an album of pop hits and promptly went tits up. Butler on the other hand, released a couple of hit singles, teamed up with David McAlmont for some stellar work and set about a hugely successful career as a producer (ironically counting Cajun Dance Party among his credits). We didn't have to wait long to find out how Yuck fared.
Their first offering with the shuffled line-up is out this coming week and has already seen the singles
'Rebirth'
and
'Middle Sea'
given the thumbs up from many sources, not least us. Once again, they've dialled the clock back a few years to shoegaze circa-1991, and they've mastered it. All the hallmarks of classic albums from that era (style-wise comparisons can be drawn to Slowdive and Chapterhouse) are in place. Even the title of opening instrumental, the relaxing and sunkissed haze of 'Sunrise In Maple Shade', is perfect. This leads us to another comparison from around the same time: Spiritualized's masterpiece 'Lazer Guided Melodies'. If the use of brass in that style wasn't influenced by that album then it's a big coincidence. 'Nothing New' is also full of brass but is closer to something from a Belle & Sebastian song, yet it fits in wonderfully. More indiepop can be found on 'Now Does It Feel' but effects pedals remain in position.
There's classic, soft distortion rubbing shoulders with guitar chimes on the lovely 'Out Of Time'; 'Memorial Fields' is typical of the genre but is at the high end for sure, and the same goes for 'Somewhere'. 'Lose My Breath' keeps the fuzz of some of their past songs, tones it down a little and plonks it behind some great melodies. It's one of many potential singles. 'Chinese Symbols' takes the most atmospheric approach here but still doesn't forget the whole "tune" part, then lastly they finish with some classic songwriting on the quite brilliant title-track which could be adapted to any style and work like an absolute treat. With the double scuzz-pop blast of the two aforementioned singles slammed right in the middle of 'Glow & Behold' it almost seems faultless. The band might have lost one of their main men, but it turns out the rest of them could be even better as a unit. Yuck? Yum!
Yuck's
website
Stream the album in full
Buy the album
Catch them live:
SAT 28 SEP Unknown venue, Madrid, Spain
SUN 29 SEP Unknown venue, Paris, France
TUE 01 OCT Madame JoJo's, London, UK
WED 02 OCT Soup Kitchen, Manchester, UK
THU 03 OCT New Slang, Kingston Upon Thames, UK
SAT 05 OCT Paradiso, Amsterdam, Netherlands
SUN 06 OCT Paradiso, Amsterdam, Netherlands
WED 09 OCT Huxley's Neue Welt, Berlin, Germany
THU 10 OCT Lucema Music Bar, Prague, Czech Republic
FRI 11 OCT Lucema Music Bar, Prague, Czech Republic
SUN 03 NOV Hit The City 2013, Eindhoven, Netherlands
TUE 12 NOV Brudenell Social Club, Leeds, UK
WED 13 NOV Shipping Forecast, Liverpool, UK
THU 14 NOV Nice N Sleazy, Glasgow, UK
SAT 16 NOV Hare & Hounds, Birmingham, UK
SAT 16 NOV All Year's Leaving 2013, Birmingham, UK
SUN 17 NOV The Bodega Social Club, Nottingham, UK
TUE 19 NOV Exchange, Bristol, UK
WED 20 NOV Norwich Arts Centre, Norwich, UK
For more news, reviews and downloads follow The Sound Of Confusion on
Facebook
or
Twitter
contact@thesoundofconfusion.com