Single review by kev@thesoundofconfusion.co.uk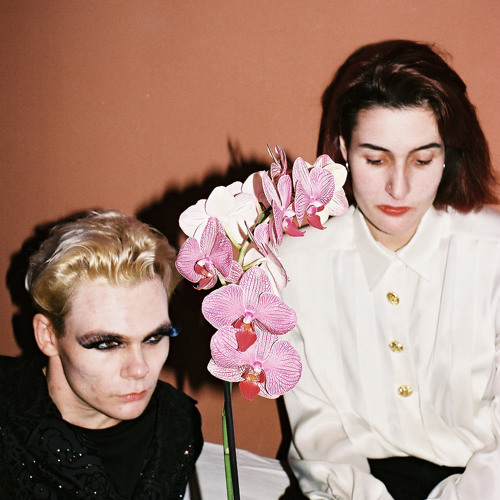 Do not adjust your sets, the silence at the start and end of this video are there by design.
Lebanon Hanover
are not a duo we were familiar with and a brief quest for information yielded few results, but they appear to be a duo from Sunderland. Listening to 'Hall Of Ice' you'd swear they were a band from continental Europe or maybe even further afield, and not just because of the name. The accent of the vocals is an almost monotone, eastern European style, but there's nothing to say that the members didn't originate from elsewhere. The coldwave sound also has much in common with the great experimentalists of that area, and the krautrock influence is undeniable.
The film that accompanies the song is a cut above your regular promo fare, being the work of Diego Barrera, art director from
Celestial Twins Productions
. There has been a running theme of strange rituals in many videos we've been sent lately, and this is no different. We'll leave the analysis to those who specialise in this area of the arts, but blood-letting using rose thorns, natural waterways and headgear made from crystals are all included. Being shot in black and white and with very low contrast (plus some techniques we don't have the knowledge to speculate on) gives the film an otherworldly quality, and one that, despite the blood and the bleakness of the music, is strangely warming.
Lebanon Hanover's
website
Catch them live:
Sep 20 Rockpalace, Madrid, Spain
Sep 21 La Residencia, Valencia, Spain
Sep 23 Undead Club, Barcelona, Spain
Sep 26 Tsunami, Cologne, Germany
Oct 16 Home Sweet Home, New York, NY
Oct 17 Machine W/Magnets, Pawtucket, RI
Oct 18 Playhouse, Montreal, Canada
Oct 19 The Comfort Zone, Toronto, Canada
Oct 24 Replicant, Portland, OR
Oct 25 TBA, San Francisco, CA
Oct 27 The Echo, Los Angeles, CA
For more news, reviews and downloads follow The Sound Of Confusion on
Facebook
or
Twitter
contact@thesoundofconfusion.com