Singles reviewed by kev@thesoundofconfusion.co.uk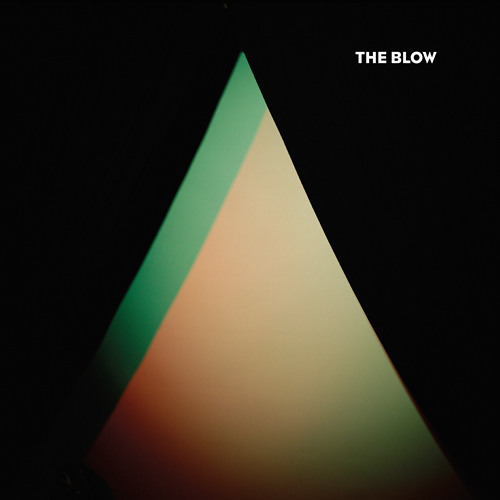 The whole electro-pop duo from Brooklyn thing has gone beyond a joke now. Is anyone in Brooklyn
not
in an electro-pop duo? Well
The Blow
fit the category perfectly, and in a few days they'll be releasing their new self-titled album in the US with a UK release later this year. The pair actually met several years ago and have been making music of some shape or form ever since, playing numerous live shows. They don't say as much, but it seems as though 'The Blow' will be their début album. So what can they offer that the rest of Brooklyn can't? Stylistically not a great deal, although the percussion on these two singles released in the lead-up to the album does set them apart a little.
Now, these two songs are singles, and therefore are likely to be some of the better tunes they have, but they show what the duo
can
offer, and that is fully-formed, well-constructed tracks that, while not making them the new royalty of the genre, certainly put them in the top half of the table. 'Make It Up' came first and showcased some neat percussion and fairly minimal backing that's transformed by the vocals. Khaela's voice has an individuality to it that's essential when creating this kind of music right now, and the layers of vocal in the chorus sound great. New single 'From The Future' has a more retro vibe but that same innovative percussion and minimalist backing (minimal, but not devoid of attention to detail) and the voice gives this digital sound a more human feel. So that's two good tracks, hopefully the rest follow suit.
The Blow's
website
Pre-order the album
Catch them live:
Oct 11 Museum of Fine Art, Boston, MA
Oct 13 Grog Shop, Cleveland, OH
Oct 14 Lincoln Hall, Chicago, IL
Oct 15 Cedar Culture Center, Minneapolis, MN
Oct 17 Walnut Room, Denver, CO
Oct 18 Kilby Court, Salt Lake City, UT
Oct 19 Flying M, Nampa, ID
Oct 20 Doug Fir Lounge, Portland, OR
Oct 21 Neumos, Seattle, WA
Oct 22 The Wild Buffalo, Bellingham, WA
Oct 23 ELECTRIC OWL, Vancouver, Canada
Oct 25 Bottom of the Hill, San Francisco, CA
Oct 27 Constellation Room, Santa Ana, CA
Oct 28 Center for the Arts, Eagle Rock, Los Angeles, CA
Oct 29 Casbah, San Diego, CA
Oct 30 The Rhythm Room, Phoenix, AZ
Nov 01 Rubber Gloves, Denton, TX
Nov 02 Red 7, Austin, TX
Nov 04 Bottletree, Birmingham, AL
Nov 05 The EARL, Atlanta, GA
Nov 06 Local 506, Chapel Hill, NC
Nov 08 Black Cat, Washington, DC
Nov 09 First Unitarian Church, Philadelphia, PA
Nov 10 Music Hall of Williamsburg, Brooklyn, NY
For more news, reviews and downloads follow The Sound Of Confusion on
Facebook
or
Twitter
contact@thesoundofconfusion.com