Album review by kev@thesoundofconfusion.co.uk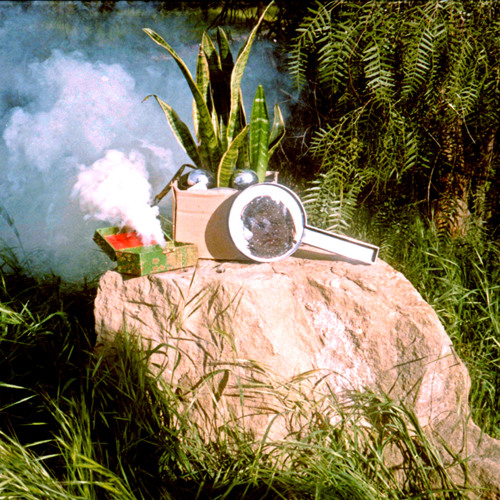 Personally, I hadn't heard of
W.H.I.T.E.
before his superlative track
'I Wasn't Afraid'
was released as a single, although as you will have guessed, this is his third album. Cory Thomas Hanson began White as a holiday project on college breaks, initially making more ambient and electronic music, as well as bringing an artistic side to the venture. 'III' was partly written on the road when he toured Europe in support of the excellent Mikal Cronin. Whether the fractured and sporadic writing process led to this album being somewhat varied or whether this was the plan all along only the man himself will know. But by all accounts, this is his most conventional and arguably best record to date.
As the short intro blends into the big beats that open first track, the aforementioned 'I Wasn't Afraid' it seems impossible to argue with this fact. It's a killer update of baggy and dreampop combined. Another ten or so of those and we'd be in musical heaven, but White has other ideas, that is musical ideas, not plans to decrease the quality of the songs. 'Can't Fight The Feeling' comes next and is six-and-a-half minutes that takes in more dreampop, folktronica and experimental pop, gradually seeming to build as if it's on the cusp of something spectacular. That word might be pushing it a bit, but when the beats and guitar hit after four minutes the album is firmly on track to be the consistently heroic effort we'd hoped for. We shouldn't forget White's musical past though. He certainly doesn't, but why should he, and if he doesn't, why should that be a bad thing?
'Friends' is essentially acoustic dreampop, it has a more ambient feel and although it doesn't strike you immediately, give it a few listens and you soon realise that there's a little magic to be found here too, it's just not presented to you on a plate. In a similar vein is 'Demons', another track that will capture your heart in the end thanks to its subtle beauty, and 'Deep Water' is purely ambient. 'Pretty Creatures' feels more experimental, introducing clipped and choppy electronic beats and washes of organ. It ends up becoming quite serene. Towards the end things pick up in terms of tempo and liveliness. 'Lost' is another dreamy song peppered with interesting sound effects and, later on, bigger beats again. One particular highlight of the slower tracks is 'Swim', a romantic song that harks back to the '60s yet is also thoroughly modern and a thing of wonder once your brain becomes accustomed to it. There's single potential in 'Wet Jets', like a less gloomy version of something from The Horrors' 'Skying' album. Once more that word crops up when describing it: dreamy. 'Building On' takes all of the above and weaves it into a perfect summation of the album to play us out. So, 'III' was not quite what was expected, but, given time, it's a really rather pleasant surprise that promises to just keep on growing.
White's
website
Stream the album in full
Buy the album
For more news, reviews and downloads follow The Sound Of Confusion on
Facebook
or
Twitter
contact@thesoundofconfusion.com