Album review by kev@thesoundofconfusion.co.uk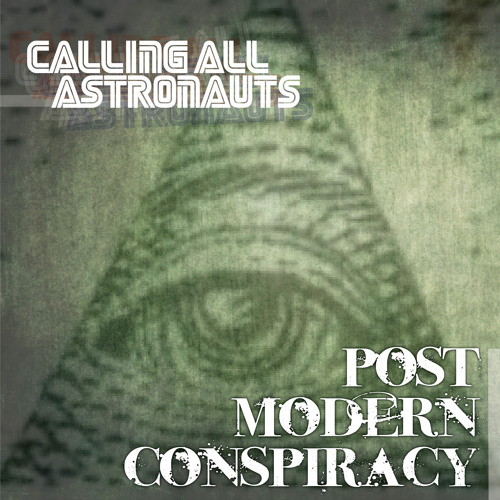 It may not be on a par with Rage Against The Machine sticking two fingers up to The X Factor, but London trio
Calling All Astronauts
bagging the Christmas number one in The Hype Machine's Twitter chart was still good going, especially given that Hypem charts often feature the same old names. Plus we get to feel mildly smug as it was our post that qualified them. Clearly it was a reasonably popular tune therefore, and not just amongst us. So if you were one of those who gave it a play then and helped contribute, you'll be pleased to note that their debut album contains more of the same, in fact you may know this already, as it was released last month, we're playing catch-up. The all-seeing eye (it looks like the one from the US dollar bill that they've used), a symbol used by the Masons, the Illuminati and generally those who are allegedly plotting a new world order, along with the album title should let you know that there's a certain political agenda here.
Calling All Astronauts are driven by the general state of things and there are tracks that focus on how the system is wrong and how a select few are trying to control the entire human race. See 'Someone Like You', 'What's So Good About', 'Politicized' and 'The Demise Of Society'. These aren't empty political statements though, and 'Post Modern Conspiracy' isn't an album about *yawn* "sticking it to The Man" made by people who have no idea who "The Man" is anyway, nor what the problems
really
are. This band are a bit more clued-up, but rather than get into a political debate, we'll switch to the tunes. The album contains the messages they want you to hear so we won't repeat them all. This trio get described as post-punk, electro-rock and goth amongst other things, and this record feels like an update of what bands such as Sisters Of Mercy and Depeche Mode were producing three decades ago. The ethos is the same but the sounds are modernised.
Vocally a low, near monotone drawl delivers the lyrics, occasionally switching to a Lydon-like snarl for some of the more electrified moments, while coarse guitars do battle with sharp, electronic-sounding beats for attention in the background. You could criticise the album for basically picking a format and sticking with it, but that argument falls apart a little when you realise that that's the whole point. Calling All Astronauts have their sound and they've mastered it. As for ups and downs, well, there really aren't any: 'Post Modern Conspiracy' is remarkably consistent in both style and quality. Whether they're hitting out at scenesters on, um, 'Scenesters',
"crass love songs"
on 'It Could Have Been Lust', or religious ideology in a materialistic world on 'Eye Of God', these songs come with a message, and these are messages delivered as if they really care. What it comes down to is that, whether politically-charged electro-rock is a style that suits your personal taste or not, Calling All Astronauts are one of the few bands out there who are saying it like they mean it.
Calling All Astronauts'
website
Stream or buy the album
For more news, reviews and downloads follow The Sound Of Confusion on
Facebook
or
Twitter
contact@thesoundofconfusion.com