Album review by kev@thesoundofconfusion.co.uk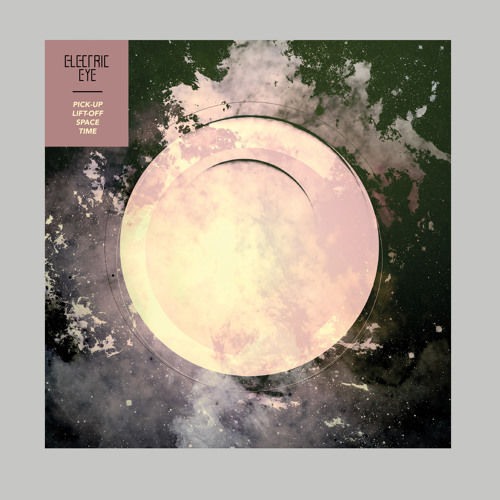 It just keeps on getting better for fans of psychedelic sounds, in this case those with a passion for heavy-psych and drone-rock, because Norwegians
Electric Eye
have set the controls for the heart of the sun and are hurtling towards it like a monstrous meteor that will destroy everything in its path. The album title couldn't be more fitting, and this debut album delivers exactly what has been hoped for - and from what we gather, it's been a while coming, so we're assuming that fans who got to the band before us will be made-up that their patience has paid off. But before we get ahead of ourselves and proclaim this to be a wonderful sonic adventure of an album, let's examine the music in a little more detail.
It's a deep, heavy, all-conquering start to 'Pickup, Liftoff, Space, Time!' with instrumental track '6am', a song that shows the band aren't afraid to go overboard with the guitars. It's like an avalanche of noise that engulfs you. The band don't deviate too far from this direction over the album's seven tracks, but the intensity is allowed to settle down a touch on 'Lake Geneva', the first time we hear vocals, although it's still largely instrumental and wouldn't have sounded out of place on a Loop album (and we'll get to see how that band's new material compares now that they've reformed). The clips of scientists talking adds to the effect of not being in the normal world, although here the focus is on the deepest ocean trenches to be found on earth, themselves like exploring a different planet.
Single 'Tangerine' is more in line with most people's vision of psychedelia. Firstly there's the song name, the vocal style, the (we think) sitar and the guitar that's allowed to freely roam over the track as it pleases, adding a freedom and fluidity to the song instead of following a set structure. At the mid-point of the album the song lengths shorten slightly, and in 'Morning Light' we get more in the way of vocals whist sticking to the same sonic blueprint. This and the bluesy 'The Road', which is similarly truncated, could prove easy access points for more casual music fans, as would 'Kruskontroll' which is maybe the album's most conventional track, even having a touch of BRMC to it. Finally the song 'Electric Eye' feels as though you're in orbit; just drifting around some far-flung planet in deep space. It's a chilled climax to a sometimes intense voyage.
Electric Eye's
website
Stream or buy the album
Catch them live:
Jul 26 Fres Festival, Fresvik, Norway
Sep 13 Phonofestivalen @ Kvarteret, Bergen, Norway
For more news, reviews and downloads follow The Sound Of Confusion on
Facebook
or
Twitter
contact@thesoundofconfusion.com