Album review by tatjana@thesoundofconfusion.co.uk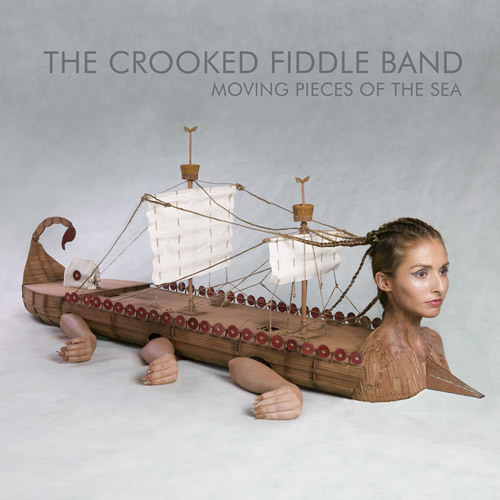 Sometimes a review starts out with a daggy pro and con list. Con: over art awful; producer Steve Albini worked with Pixies and Nirvana - big fat pro. Con: my being jaded by folk musicians "jamming" around a fire who are more drunk than talented; pro: sounds of non-conformist intelligent soundscapes made by accomplished musicians. And so it goes,
The Crooked Fiddle Band
are a four-piece that are clearly influenced by more than the traditional, weaving through every genre with a slanted bow and the odd
guizoki
if you don't mind.
The album is mostly instrumental, with violinist Jess Randall making a spectacular mess of "spot that instrument" as she mimics every sound possible. 'Vanishing Shapes Of A Better World' is like the sweet girl in the string section deciding to run off with the grungy drummer and they had some words; apparently achieved by popping a snare drum to a bass amp. 'Neptune's Fool' sounds like below deck at the Titanic if Jack and Rose had taken a mood enhancer, while 'Shanti And The Singing Fish' is the contemplative morning after.
They only hint at the classical sounds that may have once filled their repertoires; now they are able to piece together a piñata of sound, hacked at with droning bass thuds as it smashes into shanties John Hillcoat would be proud of. This is the soundtrack to The Proposition at sea, you can hear the high pitched wail of the seagulls as they circle overhead, smell the salty air as you bob along on your boat without a paddle, and yet breathe a sigh of relief that it will never be the waterlogged mess of an overpriced Costner flick.
The Crooked Fiddle Band's
website
Stream the album in full
Buy the album
Catch them live:
Fri, 01 Nov Maroochydore, QLD, AU Sol Bar
Sat, 02 Nov Brisbane, QLD, AU Queen Street Mall
Sat, 02 Nov Brisbane, QLD, AU The Joynt
Sun, 03 Nov Brisbane, QLD, AU Queen Street Mall
Fri, 08 Nov Richmond, VIC, AU The Corner Hotel
Fri, 15 Nov Wollongong, NSW, AU City Diggers, Wollongong
Fri, 22 Nov Katoomba, NSW, AU Baroque Room (inside The Carrington)
Sat, 23 Nov Darlinghurst, NSW, AU The Standard
Sat, 30 Nov Margaret River, WA, AU Settlers Tavern
Sun, 01 Dec Dunsborough, WA, AU Clancy's Fish Pub
For more news, reviews and downloads follow The Sound Of Confusion on
Facebook
or
Twitter
contact@thesoundofconfusion.com