Album review by kev@thesoundofconfusion.co.uk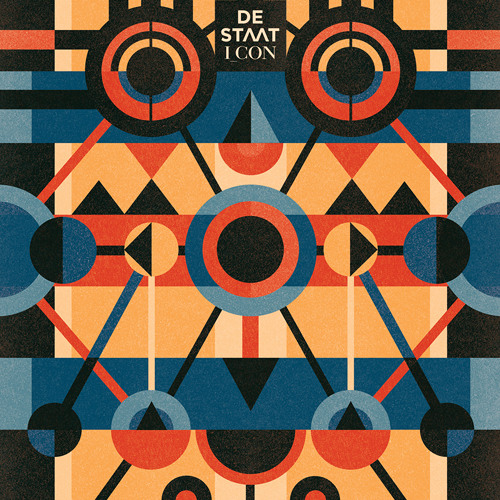 Just how can an album that's so jagged be so slippery? Dutch group
De Staat
recorded 'I_CON' is the west of France in just twelve days. It's almost impossible to imagine that the bulk of the album was written or even improvised in such a short space of time, so we're assuming (rightly or wrongly) that rehearsals and even demos had taken place beforehand. It's simply too complex otherwise. You could pick a song here, and then pick another totally at random and find that they consist of entirely different influences: there's punk, post-punk, Afrobeat, industrial, blues, psychedelia, soul, alt-pop, ska, prog and a lot of other things besides. It's a confused mess of ideas and it's also genius; it's an album full of contradictions that makes you wonder just what those Dutch smoke over there... oh yeah, we know the answer to that, don't we. In truth it could have been made totally sober, but dreamt up by a very unique mind. Yet when played together the pieces all fall into place.
From the very beginning you know this isn't going to be a normal album. Take eight-second first track 'My Bad'; it's purpose is unexplained and perhaps even unexplainable. It's not uncommon for an album to have a short introduction piece like this, but when it's
exactly
the same as the intro to second track 'All Is Dull' its existence seems all the more bizarre and needless. 'All Is Dull' by the way, belies its name by giving us a display of what we have to look forward to. Genres don't really work in the world of De Staat so this combination of a buzzing, bouncy bassline, half-spoken vocals, pop backing and a blues guitar solo can't really be categorised. It gets weirder on 'Build That Buy That'. What is it? Well it's kind of prog-ska-pop-punk-offbeat weird-pop. 'Devil's Blood' sounds like it should be a guitar-heavy blues track, so that's what it is. But as we know by now it's not
just
a blues-rock track, it's soulful, modern and even touches on the harmonies and spaciousness of some of the more experimental Americana bands. This is perhaps a good starting point if your brain is geared towards more regular musical ventures. Mind you, it's still bonkers. They even throw in a retro synth ending.
The opposite could be said for 'Witch Doctor', it's sort of the sound of PiL being mashed in with Sparks and Public Enemy and then remixed by Frank Zappa. These are experiments in sound as much as "songs" at times. 'Get It Together' has the title of a Sly Stone song and the sound to match. This is modern funk that, like the great man himself, is looking at the boundaries in front of him and wondering how best to either hurdle them or simply blow them into very small pieces. This is a rock-solid highlight and another potential introductory track. It's not as straightforward as that description makes out, but you knew that by now, right? Then there's another violent swerve in a different direction, as if De Staat are trying to escape the classification police who are in hot pursuit. 'Refugee' is part Beck, part Depeche Mode, part The Beta Band, part The Chemical Brothers and part some form of twisted krautrock that ends with guitars crying out as though they're being tortured. Another wonderful curiosity is 'I Am The Passenger' which is part Bollywood soundtrack as reimagined by some great lost experimental band from eastern Europe in the 1970s, but with Iggy Pop on vocals, perhaps as a nod to his song 'The Passenger'.
'I_CON' has more changes than a complete tour of every London underground station and it's not even close to being finished. That Eastern flavour remains on 'Input Source Select' but with lyrics that are spat out rather than sung and plenty of lead-guitar breaks, odd drum patterns and strange sound effects, and it sounds as though it was recorded in a jungle; it just about sums things up. On an album full of anomalies, 'I'll Take You' is something of an anomaly. It's unlike the rest (not that "the rest" have any particular pattern), being a mixture of trip-hop and dreampop with some nice female backing vocals. Things step back up again with the confrontational post-punk (ish) of 'Down Town', another that incorporates elements of ska, and 'Wonderer' comes close (ish) to being the kind of alt-rock that certain big, experimental US bands made popular not too long ago. The head-scratching, style-bending, manic sonic exploration finally comes to a close on 'The Inevitable End' which uses more unusual drums and percussion, while those vocals that have been the closest we've come to a constant bellow out the lyrics and a tribal feel begins to envelop what is something approaching a more majestic sound. You probably won't hear another album like 'I_CON' for a while, and we're not much closer to answering the question of how an album so jagged can be so slippery. Maybe it's best described as a snake made out of Lego.
De Staat's
website
Buy the album
Catch them live:
Sat , Oct 19, Gebouw T, Wilhelminaveld 96, Bergen op Zoom, NB (Netherlands)
Sun, Oc 20, Burgerweeshuis, Bagijnenstraat 9, Deventer, OV (Netherlands)
Fri, Oct 25, Paard van Troje, Prinsengracht 12, Den Haag, ZH (Netherlands
Sat, Oct 26, Melkweg, Lijnbaansgracht 234A, Amsterdam, NH (Netherlands)
Tue, Oct 29, Het Depot, Martelaerenplein 12, Leuven, (Belgium)
Fri, Nov 1, Alter Schlachthoff, Lingen, (Germany)
Sat, Nov 2, BETA festival, Copenhagen, All (Denmark)
Sun, Nov 3, Hafenklang, Hamburg, (Germany)
Mon, Nov 4, Crystal Club, Berlin, (Germany)
Tue, Nov 5, Strøm, München, (Germany)
Thu, Nov 7, Blue Shell, Köln, (Germany)
Fri, Nov 8, Kraftfeld, Winterthur, (Switzerland)
Sat, Nov 9, Atak, Enschede, (Netherlands)
Mon, Nov 11 Gold Marks, Stuttgart, (Germany)
Tue, Nov 12, LUX, Hannover, (Germany)
Wed, Nov 13, Zentrum Altenberg, Oberhausen, (Germany)
Fri, Nov 15, Hedon IJsselhallen, Zwolle, OV (Netherlands)
Sat, Nov 16, De Vorstin, HIlversum, Hilversum, (Netherlands)
Fri, Nov 22, Musicbunker, Aachen, (Germany)
Sat, Nov 23, Kulturladen, Konstanz, (Germany)
Thu, Nov 28, Mezz, Breda, NB (Netherlands)
Sat, Nov 30, Het Bolwerk, Sneek, FR (Netherlands)
Thu, Dec 5, De Spot, Middelburg, ZE (Netherlands)
Sat, Dec 7, Bibelot, Dordrecht, ZH (Netherlands)
Thu, Dec 12, Luxor live, Arnhem, GE (Netherlands)
Fri, Dec 13, De kelder, Amersfoort, (Netherlands)
Sat, Dec 14, W2, Den Bosch, NB (Netherlands)
Sun, Dec 15, Schouwburg Rotterdam, Rotterdam, ZH (Netherlands)
Wed, Dec 18, Vooruit, Sint-Pietersplein 26, Gent, (Belgium)
Fri, Dec 20, Metropool, Hengelo, (Netherlands)
For more news, reviews and downloads follow The Sound Of Confusion on
Facebook
or
Twitter
contact@thesoundofconfusion.com