Album review by kev@thesoundofconfusion.co.uk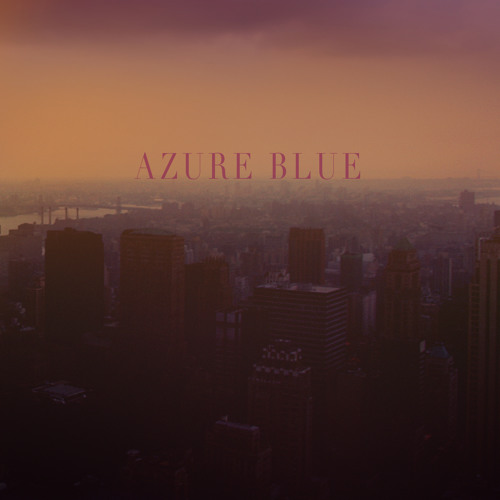 Swedish musician/producer Tobias Isaksson (the man behind the name
Azure Blue
) has a bit of a problem. Take a couple of songs off his first album and you'd have a really quite good combination of synth-pop and indiepop. Look at debut 'Rule Of Thirds'; if you removed say,
'The Catcher In The Rye'
and maybe 'Little Confusions', it would be a wonderful record. The problem isn't that these songs let the side down, it's the total opposite. 'The Catcher In The Rye' grows on you, in fact it probably grows
in
you; it becomes a part of you. If you want alternative, credible pop music then it doesn't come any better. All those other fine tracks on the album pale slightly by comparison. It's an odd situation, a bit like everyone watching Barcelona because Messi is playing, and forgetting that the rest of the team are some of the best footballers of our generation.
So Azure Blue has two problems to tend to with second long-player 'Beyond The Dreams There's Infinite Doubt'. Most importantly, he has to conjure up another collection of songs that, like the first album, are the kind of pop music that The Sound Of Arrows promised to deliver early on before heading for commercial places, much to their detriment. The first singles from the new record were
'The Road I Know'
and
'Willows And Pines'
, both of which belong in the same magical land as 'The Catcher In The Rye', particularly the former. Rarely does synth-pop meet with indiepop to such stunning effect. The man's pulled off the trick again; these are classics. It's this double-barrel of dreamy bliss that kicks off 'Beyond The Dreams...' and it feels like being in a wonderland: pure escapism with added melody. It's the same problem again; how on Earth do you keep that up for ten tracks?
The simple answer is that you can't, but Tobias Isaksson gives it a darn good shot here, improving on the (very good) debut. The singles are followed by the interlude of 'Sunrise' and then more high quality tunes in the pensive, floaty 'When The Love Is Pure And True'. "Ethereal" is one of the most cringeworthy words used in music reviews, but rarely is it more fitting than in these songs. Recent single
'Sunset'
seems nice at first but grows with each listen, until it's virtually on a par with the alchemy of the aforementioned tracks. 'The Bitter End' is more potential single material and 'By Your Side' is beautiful, almost having the same sentiment (but not sound) as classic soul tracks in the vein of 'Stand By Me'; a powerful statement of unity and dedication to someone. 'Do Not Go Gentle' ignores its own advice and is an swoonsome ambient instrumental, as is 'Beyond The Dreams'. Bowing out with more pristine pop, 'Time Is On Our Side' ensures the album ends with a certain majesty. Azure Blue has gone one better this time around and crafted an enchanting listen start to finish. Still, there is the odd song that is simply a cut above. You can bet your life that if a Greatest Hits album arrives in a few years it will be an essential purchase, and that's not to say this release isn't already.
Azure Blue's
website
Stream the album in full
Buy the album
For more news, reviews and downloads follow The Sound Of Confusion on
Facebook
or
Twitter
contact@thesoundofconfusion.com