Single review by soul1@thesoundofconfusion.com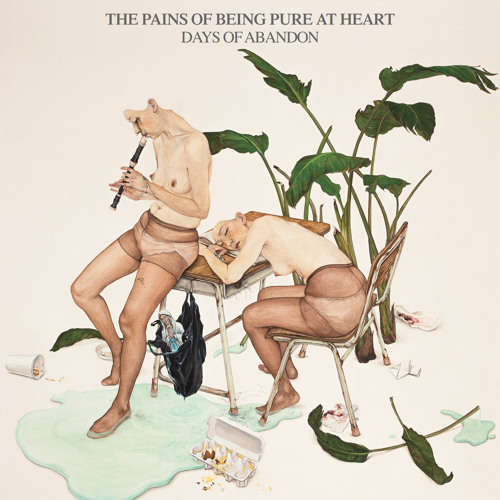 You probably know the story. Over a few early singles and EPs,
The Pains Of Being Pure At Heart
built a bit of a reputation on the New York underground, playing some apparently thrilling gigs without necessarily being the world's best musicians. More proof that passion and tunes beats noodly showmanship. Their first album was released early in 2009 to little fanfare but some glowing reviews. A few months later, word-of-mouth had spread like wildfire, and the album sat atop a few end of year polls (including ours) and just kept getting better and better. The second album was great too, but maybe not quite as good as the debut, and that was in part due to the smoother sound and perhaps not quite as much consistency. Still, they'd made two splendid albums, but members were busy with other projects such as The Depreciation Guild and The Ice Choir. TPOBPAH was never in doubt, but the direction it would take wasn't clear.
After teasing a short clip of another more stripped-back song last week, we now get the first single from upcoming third album 'Days Of Abandon' which will be out on April 22nd. Word has it that the album is, if not quite a solo project, largely the work of Kip Berman, so that instantly had us expecting a difference, and 'Simple And Sure' proves this fact. The buzzing guitars are gone in favour of a poppier, jangly guitar sound that sees them veer away from the lo-fi recordings of old. The sound has changed, and the style has too. At first it seemed perhaps a bit of a let-down, not quite matching past singles. What I personally found, and this was also said by our Scottish correspondent, was that after three plays it begins to sound like the kind of joyous indiepop we'd hoped they'd make. The new sound may take a little getting used to for those of us who are more accustomed to the fuzzy melodies they showered the world with initially, but the new direction it starting to sound like a good move. So high marks for this song, and a tentative thumbs-up for the change in direction too.
The Pains Of Being Pure At Heart's
website
Catch them live:
Apr 24 Brighton Music Hall, Boston, MA
Apr 25 Le Belmont, Montreal, QC
Apr 26 Horseshoe Tavern, Toronto, ON
Apr 28 Empty Bottle, Chicago, IL
Apr 29 Triple Rock Social Club, Minneapolis, MN
May 03 The Vera Project, Seattle, WA
May 04 Holocene, Portland, OR
May 06 The Independent, San Francisco, CA
May 07 Troubadour, Los Angeles, CA
May 09 Casbah, CA, 92101
May 10 The Crescent Ballroom, Phoenix, AZ
May 11 Sister, Albuquerque, NM
May 13 Larimer Lounge, Denver, CO
May 15 The Record Bar, Kansas City, MO
May 16 Zanzabar, Louisville, KY
May 17 Rumba Cafe, Columbus, OH
May 18 Club Cafe, Pittsburgh, PA
May 19 Johnny Brenda's, Philadelphia, PA
May 21 Rock & Roll Hotel, Washington, DC
May 22 Bowery Ballroom, New York, NY
For more news, reviews and downloads follow The Sound Of Confusion on
Facebook
or
Twitter
contact@thesoundofconfusion.com