Single review by soul1@thesoundofconfusion.com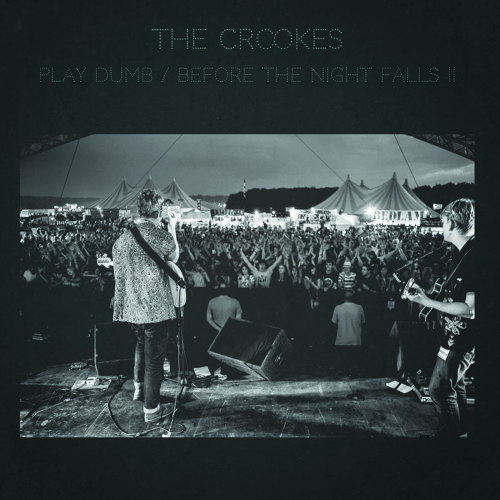 Sheffield bunch
The Crookes
looked as though they'd missed the boat at first. Forming at the end of the last decade, their brand of indie/guitar music was well and truly on the wane, with many of its champions struggling to scrape their way into a singles chart where they'd previously enjoyed great success. It seemed that the quartet would probably hang around for an album, maybe two, and then call it a day. Not through lack of talent, but it can be discouraging when not as many people are taking notice as they once did, and much had been made about the downfall of guitar music. After years in the wilderness, it was announced that "rock" music had outsold "pop" music in the album charts last year for the first time in ages. So maybe the wait will have been worth it, maybe The Crookes can get a break after all.
Never a band short on support, their fanbase has welcomed the two albums they've released so far, and as indie/guitar bands go, they've generally had some nifty songs. Well, new single 'Play Dumb' is one of their strongest yet, adding a weightier feel and less reliance on the usual tricks of the trade, Put simply, it's got more about it; more muscle, more individuality and more natural energy.
"Please understand that I'm not giving up"
could be the rallying cry for the band. They've survived the guitar music recession, and now they're more perfectly poised than ever to reap the rewards of its (hopeful) upturn. The Crookes sound like a band coming of age at just the right time.
The Crookes'
website
Pre-order the single
Catch them live:
SAT 08-MAR USA, DALLAS TX, HOUSE PARTY/ALBUM PLAYBACK SHOW
SUN 09-MAR USA, DALLAS TX, NYLO HOTEL LAS COLINAS
WED 12-MAR USA, AUSTIN TX, PARISH UNDERGROUND
THU 13-MAR USA, AUSTIN TX, CHEER UP CHARLIE'S
FRI 14-MAR USA, AUSTIN TX, EL SAPO
SAT 15-MAR USA, AUSTIN TX, LATITUDE 30
SUN 23-MAR USA, LOS ANGELES CA, THE ECHO
TUE 15-APR UK, NOTTINGHAM, BODEGA
WED 16-APR UK, LEEDS, THE COCKPIT
THU 17-APR UK, NEWCASTLE,
CLUNY 2
FRI 18-APR UK, GLASGOW, KING TUTS
SAT 19-APR UK, HULL, ADELPHI
TUE 22-APR UK, MANCHESTER, SOUNDCONTROL
WED 23-APR UK, BIRMINGHAM, HARE & HOUNDS
THU 24-APR UK, STOKE, SUGARMILL
FRI 25-APR UK, BATH, MOLES
SAT 26-APR UK, SOUTHAMPTON, LENNONS
SUN 27-APR UK, BRISTOL, THEKLA
MON 28-APR UK, BRIGHTON, THE HOPE
TUE 29-APR UK, LONDON, DINGWALLS
FRI 2-MAY FRANCE, PARIS, LA FLECHE D'OR
SAT 3-MAY HOLLAND, UTRECHT, EKKO
SUN 4-MAY HOLLAND, EINDHOVEN, EFFENAAR
MON 5-MAY BELGIUM, GHENT, VIDEO
WED 7-MAY GERMANY, COLOGNE, STUDIO 672
THU 8-MAY GERMANY, HAMBURG, CLUB MOLOTOW
FRI 9-MAY DENMARK, COPENHAGEN, LOPPEN
SUN 11-MAY GERMANY, BERLIN, COMET
MON 12-MAY GERMANY, MUNICH, ATOMIC CAFE
TUE 13-MAY AUSTRIA, VIENNA, CHELSEA
THU 15-MAY ITALY, TREVISO,
HOME
FRI 16-MAY ITALY, MARINA DI RAVENNA, HANA BI
SAT 17-MAY ITALY, MILAN, LOFI
SUN 18-MAY ITALY, MANTOVA, TRESOR
TUE 20-MAY SWITZERLAND, ZURICH, EXIL
WED 21-MAY SWITZERLAND, LAUSANNE, BLEU LEZARD
THU 22-MAY FRANCE, LILLE, LA PENICHE
FRI 23-MAY HOLLAND, AMSTERDAM, PARADISO
SAT 31-MAY UK, SHEFFIELD, LEADMILL
For more news, reviews and downloads follow The Sound Of Confusion on
Facebook
or
Twitter
contact@thesoundofconfusion.com