Single review by
jose@thesoundofconfusion.com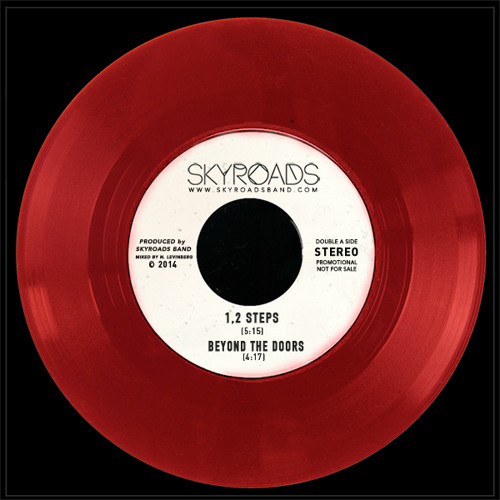 SKYROADS
is about to release a brand new double A-side single, '1,2 Steps'/'Beyond The Doors' on July 21st. These two tracks take you on a trip back into the past while maintaining modern textures of electronics. SKYROADS is based on Tel Aviv, Israel. They blend electronic pop with groovy guitars and infectious rhythms. The vocals sway in retro melodies as if they were swimming through the grooves of a record.
The first track, '1,2 Steps', opens up with a funky bassline and stomping drum beat that resembles the beating of a passionate heart. As frontman Ami enters, this song immediately turns into a future dance hit. The instrumental is showered with luscious keyboards that reprise dance music in the eighties. Beneath, a Nile Rodgers inspired guitar ties everything together. There are exploding moments of electronic madness on here, so prepare your ears, you are going to get lost in this. This song is five minutes long but once it's over you are going to wish it was longer.
On the opposite side, 'Beyond The Doors' reaches into the deep to the forgotten time of disco and shoves them right back. It has it all. From the groovy bass to the catchy chorus done so nicely by frontwoman Tamar, this song is quite an earful. It's built to withstand multiple plays; filled with textures of synths that bloom as otherworldly plants. The rhythms gives the song a fierce power that goes up and down and up again. SKYROADS knows how to make music that affects a person to get up and dance. I don't dance, and the songs got me "trying" to dance. SKYROADS are currently on their first UK tour, so catch them around if you can. If not, get this double A-side single: you won't regret it. They had sold-out shows in Tel Aviv and played the acclaimed Liverpool Sound City festival. They are going to get big, make sure to listen to them before the world catches up.
SKYROADS'
website
Follow The Sound Of Confusion on
Facebook
or
Twitter
contact@thesoundofconfusion.com