Album review by scott@thesoundofconfusion.co.uk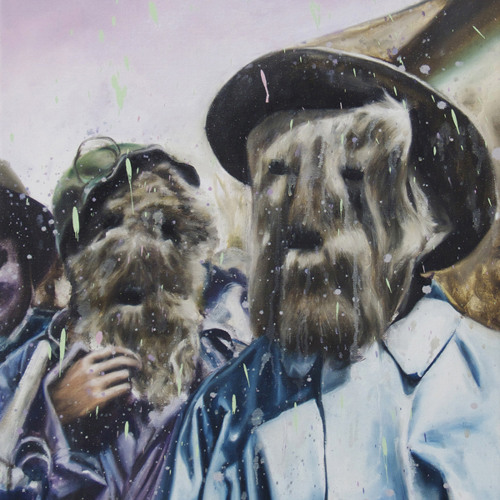 Now as the year is coming to an end and after hundreds of little gems released, a first review here for Sweden's
VED
, a band you may or may not know from earlier this year, March to be precise, when they released their double-sided 12" single 'Spectra'. VED, a band firmly woven into the Malmö psych scene and currently signed to the industrious Psychic Malmo label, released what seemed at first just a single of standard proportion, yet both sides are 15 minutes each, delivering some of the sickest psych out there. Here you can surely find your fill of instrumental, prog, psych and minimal synth of large proportion.
This is a band that is evidentially showing signs of stern grit and boasting some of Malmö's meticulously constructed repetition. A six-piece and delivering in true DIY spirit, Mathias Nihléns previously created music that was released under the same name on mainly CD-R format before the release of last year's self-titled debut, and now after gathering five other members, VED has grown into something far greater! VED are now playing complete live shows where performances have been eye catching to say the least and this has allowed them to bring something of a togetherness that lacked before.
Malmö is the specific point that allowed them to create their own unique universe, a universe that holds fragments of the past and echoes of places that they do not even want to visit. The songs here have been allowed to grow over time. They are organic, airy and slightly suggestive. Imagine yourself sodden in a hole, struggling to see anything, but you can feel the dampness of your surroundings. You try to climb, but with no success you keep stumbling, reaching for hope, but still it never comes. Then suddenly there appears what seems to be light, and you gather your thoughts and dreams and make one final attempt, but to only fail and stay submerged beneath the shit. This is the the feeling I get when taking on such a listen to this band in general. One could say they are the soundtrack to your failures and lost dreams, but the only thing I hope for is that this band keep producing the stuff only hopeless fools dream of, that of becoming the perfect life.
VED's
website
Buy the album
For more news, reviews and downloads follow The Sound Of Confusion on
Facebook
or
Twitter
contact@thesoundofconfusion.com