Album review by jay@thesoundofconfusion.co.uk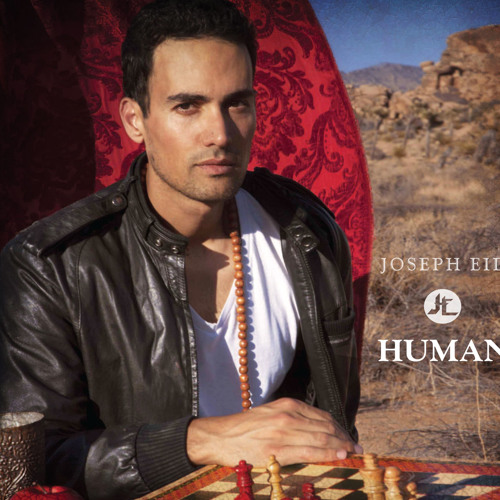 With a playful and sunkissed warmth, 'Ready Now' welcomes us into
Joesph Eid
's album 'Human'. On a day were the cold seems to seep into your bones, 'Ready Now' is a delicious slice of Californian acoustic pop sunshine. Title-track 'Human' is a more restrained, delicate, entrancing song that has a beguiling touch that will infect you. It has a simple folk undercurrent that could of stepped out of Laurel Canyon or a Greenwich Village coffee shop. It is an early highlight, placing Eid alongside contemporaries such as Iron and Wine and Jonathan Wilson. Its gently sweeping strings wrap around you adding that final touch to the song's wondrous charm. 'Hit Me Up' is a lilting bar-room waltz. With a sweet slide, shuffling drums and a irresistible foot-tapping beat it will have you happily getting your gal's hand to dance under the mirrorball, as we hear that
"baby you want me now, as you want me"
, with the gentle warning of
"don't take forever"
as the song two-steps out to it's close. On a loose, near jazz swing, 'Something Real' glides into view. It has a delectable touch that is completed with a devilishly flourished piano. 'Something Real' is a cautious tale of loosing yourself behind the world of Twitter, all coated in a breezy, light-footed song.
It all falls back to the intimate and gentle with 'The Rock'. This is cut from the same cloth as 'Human' and has the same entrancing magical touch, that makes you wish that Eid resisted the more fuller sounds and gave us an album of gemstones like this. 'The Rock' has a superbly crafted punch that comes from its elegiac restraint. It is mesmerising and has you rewinding to submerge in its depths again and again. 'Take a Breath' is a brief interlude that comes across slightly like a new-world counselling mantra, as we are told to focus on our
"third eye"
. It serves well as a break to allow you to breathe after 'The Rock'. With a sense of the flamenco and heat, 'Rain' has a rich palette and a rewarding sense of drama. With 'What Will You Do' Eid strikes the balance of his sublime acoustic side with those fuller arrangements. It is another highlight, like 'Brilliant Disguise'-era Springsteen, with flashes of Bruce Hornsby's 'The Way It Is'. It is an effortlessly realised song that is perfectly paced and enriching. We are now in the album's most rewarding succession of songs, and 'Don't Leave' is a timeless country-rock song that has the album's most exquisite guitar, only adding to the aural pleasure. 'Don't Leave' is a shimmering, lilting ballad that is enhanced with a pure country female counter-vocal.
'The Rock (Reprise)' is the album's first real misstep. Lyrically it is embittered and forlorn, but it can't decide whether it wants to be stark and vent, or be a little more subtle, wrapping the scorn and fear in larger arrangements. It ends up feeling just a little too un-focused. Penultimate song 'Greatest Lesson' is a perfect closing time song. It is serene, a little worn, soundtracking those days when the world feels a bit harder to deal with. Its stately feel is built upon with unhurried and graceful strings. And so to closer 'It's Only Love'. Another delectable country-rock song that encompasses all of 'Human''s strengths. It has a quietly huge hook that will stay with you long after it's finished, Eid gives us some of his most astute lyrical stanzas, then gracefully 'It's Only Love' grows into a duet that follows in that wonderful tradition of Gram and Emmylou, up to Mark Lanegan and Isobel Campbell. 'Human' is a real journey with some touches of magic, all delivered with a charm and craftsmanship that rewards with each play.
Buy the album
Catch him live:
Wed, 04 Dec Los Angeles, CA, US ROOM 5
Tue, 17 Dec New York, NY, US
CD Release show at the Housing Works Bookstore Cafe
For more news, reviews and downloads follow The Sound Of Confusion on
Facebook
or
Twitter
contact@thesoundofconfusion.com