Allusondrugs - Plasters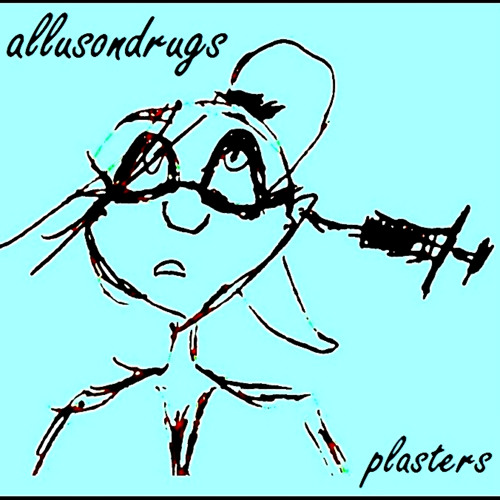 This is the debut single from Castleford band
Allusondrugs
and there can't be many better ways to announce your arrival. 'Plasters' is an very good, grungy fuzz-rock track of the variety that's slowly creeping back into fashion. The quintet ensure that there's plenty of melody here too, so strip this down and you'd still have a pure tune, and a fine one at that.
Allusondrugs'
website
Buy the single
Catch them live:
FRI 30 AUG The Black Bull, Castleford, UK
SAT 31 AUG The Packhorse, Leeds, UK
FRI 06 SEP The Hop, Wakefield, UK
SAT 07 SEP Bullfest 2013, Castleford, UK
SUN 08 SEP Doncaster Live 2013, UK
SUN 08 SEP West Street Live, Sheffield, UK
FRI 13 SEP The Black Bull, Castleford, UK
MON 23 SEP The Library, Leeds, UK
SAT 28 SEP Carpe Diem, Leeds, UK
FRI 11 OCT The Black Bull, Castleford, UK
SAT 26 OCT Nation of Shopkeepers, Leeds, UK
FRI 01 NOV The Black Bull, Castleford, UK
SAT 30 NOV Escobar, Leeds, UK
Barbarossa - Pagliaccio
It was
just a couple of weeks ago
that we featured
Barbarossa
when he released his album 'Bloodlines', but this week sees the genre-hopper release digital only single 'Pagliaccio' which takes in a whole bundle of styles to form what is essentially a soulful, modern indie/pop track. We have a feeling that this chap could become quite a bit bigger before too long.
Barbarossa's
website
Buy the single
Catch him live:
Sep 08 UK, Newport, Bestival
Sep 09 UK, Manchester, Castle
Sep 11 UK, Brighton, The Green Store Door
Sep 13 UK, London, Sebright Arms
Sep 19 The Netherlands, Amsterdam, Paradiso (upstairs)
Sep 21 France, Paris, Fleche d'or
Sep 22 Belgium, Brussels, Botanique (Witloof Bar)
Sep 24 Germany, Cologne, Studio 672
Sep 25 Germany, Stuttgart, Schocken
Sep 26 Germany, Frankfurt, Zoom
Sep 27 Germany, Hamburg, Reeperbahn Festival
Sep 28 Germany, Berlin, Berlin Independente Night
Mahùt - May Revolution
Our Italian isn't too good, but it appears that
Mahùt
release their EP 'We Never Look Up' this week. One thing we are certain of is that the twinkling, experimental folktronica of single 'May Revolution' is on it and is available from the links below in its own right. It's quite a chilled yet surprisingly intricate tune with great attention to detail.
Mahùt's
website
Buy the single
Beach Volleyball - Power Cuts
Formed in Manchester but now based in London,
Beach Volleyball
got together last summer and so have done well to get their debut album, 'Broadcast', out just a year later. Taken from it is the doom-laden shoegaze/alt-rock of 'Power Cuts' which displays a seismic force and will leave your speakers quaking. If you see them live, earplugs may be advised.
Beach Volleyball's
website
Stream or buy the album
Catch them live:
SUN 25 AUG The Macbeth, London, UK
OBLIGATORY RECORD OF THE WEEK
Camera Obscura - Break It To You Gently
So consistent are Camera Obscura that it can sometimes be easy to just take them for granted and forget that they're there. Over the past decade they've been one of the best bands in Britain, and latest album 'Desire Lines' is a contender for album of the year. To prove how effortless they make things seem, they've just released this video single for 'Break It To You Gently' which blends their gorgeous orchestral indiepop with northern soul to produce a song that blows the competition away.
contact@thesoundofconfusion.com