Album review by kev@thesoundofconfusion.co.uk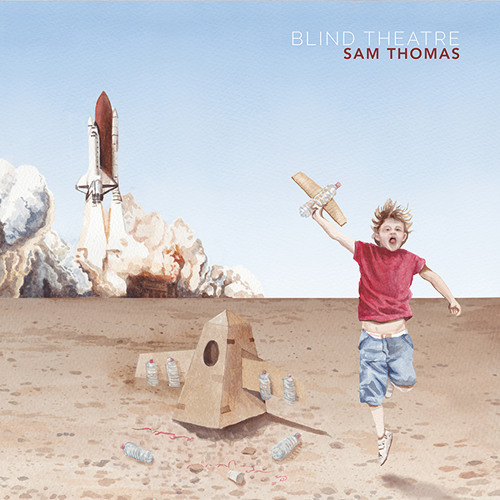 It's probably fair to say that London artist
Sam Thomas
is something of a maverick. There are sections of this album that most "cool" bands would consider out-of-bounds. Perhaps Sam is reclaiming these for the forward-thinking innovators. A cursory listen to his debut album 'Blind Theatre' would have you thinking of the words "post" and "rock" in that order. There's an argument that if, at its beginning stages, prog-rock had taken a different path the we wouldn't have ended up with ridiculous ideas like Rick Wakeman playing 'King Arthur' on ice, complete with real horses, but we may have arrived at something closer to this (which is
far
less ridiculous, but on the downside, not half as funny). This is, barring sampled voices, an instrumental album. Previous single
'Gift'
condenses down many of the ideas into one song. There is a vocal sample (which sounds as though it's put through a vocoder) and there are strings, sound effects such as what could be a radio being tuned, acoustic guitar being gently plucked, piano adding even more variety to the slow, peaceful introduction, and then electric guitar entering the fray, along with percussion. Things get heavy. The guitar is treated so it buzzes and distorts and grows louder and more overlaid, and then the calm again as the song plays out with those strings and a beat with less ferocious electric guitar in short bursts. It's individual and inventive and not easily compared with.
What follows has many of the same attributes but with very different songs. There's the short ('Soar Mill Cove' is just over a minute-and-a-half) and the long ('Lanterns' breaks the seven minute barrier and isn't alone). If you want instant pop then
here's Radio 1
, if you want mesmerising tunes that may take a little effort and a few plays but will be much more rewarding, then stay tuned. 'North' grows from humble beginnings built from those same instruments, to a grand crescendo that won't fail to impress. Then it drops again, allowing different sound effects to be heard, hiding behind the piano, before expanding once more. Much prog was born out of folk music, and that influence is found on 'Internal Ether', yet it's also cinematic and actually another gently soaring delight. This is one thing Sam Thomas has mastered; making what could be basic compositions become something else entirely. The vocal sample in this song is another interesting addition.
If this is to be called post-rock, then it's a darn sight more interesting than most. Plus it includes 'I'm Gonna Be A Witch'. This track was Sam's debut single (
edited to nearly six-minutes less than the album version
) and it was genius. Here it takes a different form, with the full intro and ending included. The piano and guitar start fairly innocuously and you're almost expecting a storm to follow this calm. The piano grows, along with other sounds, and then that genius sampled child's voice is introduced together with the beautiful guitar melody. This is why we proclaimed this track one of the best debut singles we'd heard for a while. The single had a rock element, and as that was simply a chopped-down edit of this version, that remains. On the full-length it becomes an almighty guitar solo that verges on metal, but isn't here to show-off musical ability. It's here because that's the way the song develops naturally, and because of that it fits, although it is a surprise. But why be predictable? That's been done to death.
'Temples' opens with what sounds like some machine misfiring, but again it turns cinematic and has more samples which can't quite be deciphered. It's a slight comedown after what came before, but the sheer willingness to not go anywhere near a format or a standard plan soon turns it into much more of a spectacle. Piano ballads are rarely much cop, which is why 'Ojera' stays as one for a matter of seconds until a plethora of instruments and sounds are brought in for what is an unexpectedly funky ride, and an eclectic one at that. Equally surprising is the classic rock riff that opens 'Arnold's Circus', but it's warped until it becomes barely recognisable as such. Then, naturally, it just goes off on one for a bit until it melts into the neo-classical stands of 'Blue Cologne'. Like the whole album, no song stays the same for long, as the maudlin, epic rock, experimental found-sounds, extended guitar solo and orchestral ending of 'Lanterns' proves. Then it's just 'Isis' with it's rising and falling piano and wind instruments to bring the curtains to a close. 'Blind Theatre' will probably take time to become fully appreciated, but then it took time to make, but what it all boils down to is that the wait was (and will be) worth it.
Sam Thomas'
website
Buy the album
For more news, reviews and downloads follow The Sound Of Confusion on
Facebook
or
Twitter
contact@thesoundofconfusion.com