Album review by kev@thesoundofconfusion.co.uk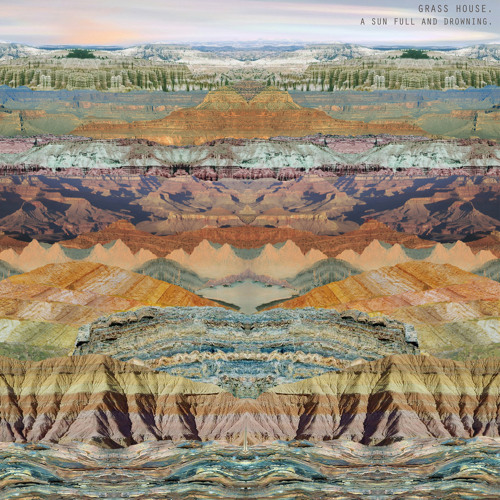 Well they kept us waiting long enough.
Remember this?
It's been just over two years since 'The Breeze' and
'Faun'
dazzled us by appearing as fully-formed, cinematic alt-rock that was streets ahead of the competition. We expected big things, and judging by the evident quality, we expected them fairly soon. Certainly an album before 2012 was out. We did get new material that year;
a single in September
. So what was keeping them? Was it a case of limited ideas or writer's block, the kind that stalled the initially promising career of Klaxons and finished off Elastica several years before? Of were there difficulties of another kind? The sort of thing that made it seem like we'd get the second coming of Jesus before The Stone Roses gave us theirs? It's not as simple as that when you look at the facts.
Grass House
only formed in 2010, so three years to piece together a debut album with a band line-up that works and everyone is happy with isn't uncommon. It's easy to get carried away by a band who announce themselves with such quality that, although it feels reasonably long, the time taken is perfectly normal. It's simply more noticeable with an exciting band (see also another one of our big tips,
HUSH!
).
It was apparent, and stated by the band, that they were aiming to slightly downplay the grand production and cinematic sound of those first two songs. 'The Breeze' doesn't even make the cut, and the same goes for last September's 'The Boredom Rose'. So what are we given on the Yorkshire band's debut album, 'A Sun Full and Drowning'? It's not totally out with the old and in with the new. The live preview of
'A Thousand Generators'
is now converted into the finished article, complete with their trademark lyrics which show just how poor some other wordsmiths in the music world are. The campaign for this record began in earnest with single
'And Now For The Wild'
early this summer, and then with
'I Was A Streetlight'
a couple of months later. Never are those lyrics allowed to dip into the mundane or the routine, and it's much the same with the music. These songs (rerecorded for the album) indicated that although Grass House might be aiming for something more real, less reliant on production and layers to get their point across, they were still aiming for a little majesty, and they still wanted the production to fit and be the match of the songs; it sounds like the plan was for balance, to make everything equal with no one facet of the songs allowed to stand-out: they had to stand-out as a whole.
Comparisons are a reviewer's best friend, but it doesn't quite work like that here. The best plan in that respect is to give a passing mention to Tindersticks, Cave, Waits and so on, but reimagined so they were allowed to put more life into their music and weren't quite so morbid. 'A Sun Full and Drowning' does have its share of slower, perhaps less, shall we say, cheerful tracks like 'Tasteless But Taciturn', yet they're not as impenetrable to the average music fan as those cult legends. The whole tone is set by opening track 'Spinning As We Turn', the perfect choice to show the different sides of the band, something that's continued to even greater effect on the powerful 'Of Haste And Art'. Then we get to 'Faun', the one early release that does survive, although in rerecorded form, and it's still a highlight, it's still cinematic, and even though it's been toned-down a touch it impresses with distinct grace and majesty that others barely get close to. Each track fits gels and allows the album to flow, and each bears the many of the same hallmarks, but never do things become repetitive and never could you mistake one song for another. Whether it's 'The Colours In The Light May Obscure' or the more upbeat, almost jolly 'Wild And In Love' that follows it, you know it's the same band. With the classic-sounding baroque-pop of 'Avocado Eyes' taking us out in reflective but fitting style the opinion is definitive. Grass House haven't taken as much time as it may have felt, they simply got off to an early and shockingly good start. As for the wait that we have had, I think we can safely say it's been worth every second.
Grass House's
website
Stream the album in full
Buy the album
Catch them live:
NOV 02ND MANCHESTER - THE CASTLE (MAIN SUPPORT)
NOV 03RD LEICESTER - THE SCHOLAR BAR
NOV 04TH LIVERPOOL - KOROVA
NOV 05TH NORWICH - OLIVES
NOV 06TH DERBY - VICTORIA INN
NOV 07TH SHEFFIELD - DADA
NOV 08TH LEEDS - COCKPIT
NOV 10TH YORK - BASEMENT (CO HEADLINE)
NOV 11TH BRIGHTON - HOPE
NOV 12TH CARDIFF – BOGIEZ
NOV 14TH THE MACBETH, LONDON
For more news, reviews and downloads follow The Sound Of Confusion on
Facebook
or
Twitter
contact@thesoundofconfusion.com