Album review by kev@thesoundofconfusion.co.uk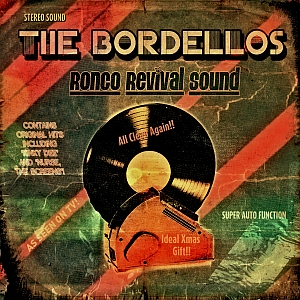 Merseyside trio
The Bordellos
seem totally disconnected from any current music trends, and it's entirely deliberate. New album 'Ronco Revival Sound' even begins with a song, the title-track, which does nothing but look to the past,
"when Gary Glitter was played on the radio"
and
"the days of paper pounds"
. The genres of the '60s and '70s are discussed, along with Top Of The Pops, 7" singles, the Radio 1 Roadshow, the shocking deaths of Elvis and Lennon; in short, it's a song out of time, a song about all the aspects of music that the current generation probably know little about (
"punk, disco, soul, glitter and glam"
). Their own sound is really none of these things, having more in common with classic, underground indie bands of the sort that Peel fawned over in the 1980s.
This is a slightly ramshackle record, and one that's made by a band who refuse to settle into a routine, or more likely
can't
settle into a routine. The, for want of a better term, lo-fi, strummed love song 'Deborah' ponders why that particular name has featured in so many songs. Stop and think about it, there does seem a disproportionate amount. They keep the focus on the past with a tribute to garage-rock called 'Kinky Dee' which barely holds itself together before ending with a simple
"Done.".
They're capable of giving the whole serious thing a good go too, as we find out on 'Sun Storm', a song about the damaging power of love gone wrong which is backed by more considered and eerie instrumentation. It's a real highlight. They keep it maudlin on 'Who's To Blame' which focuses on the music scene of the north-west, referencing The Fall and
"the summer Manchester acid craze".
'Weird K' is like Beck had he been around as folk-rock and psychedelia were morphing into prog; 'Nurse, The Screens' would be considered a demo by most band's standards, with drums that clatter about almost a random, but it somehow works better that way. By way of contrast, this is followed by 'A Man You've Never Seen', a song that's simple in terms of arrangement but is much tidier than some of their tunes. Again it's a slightly haunting song with a least one comical line hidden in it, but is another stand-out. It's back to delightfully skewed noise-pop for 'Tattoo Heart', a track that sounds like a punk demo from '77, and then it's the closing couplet of 'Fruitcakes', which manages to see them in more experimental mode but sounds about as close to a conventional song as they get; it's very slacker-rock of the Pavement variety; then the lovely, synth-powered dreampop-gone-wrong of 'Temperature Drop', maybe the best song of all. The Bordellos would never have got on Top Of The Pops, The Radio 1 Roadshow, been anywhere near as revered as Lennon, Elvis, or even Gary Glitter (before he was found out), but they're not supposed to be. Fitting in doesn't feel like part of their game plan.
The Bordellos'
website
Buy the album
For more news, reviews and downloads follow The Sound Of Confusion on
Facebook
or
Twitter
contact@thesoundofconfusion.com