Single review by kev@thesoundofconfusion.co.uk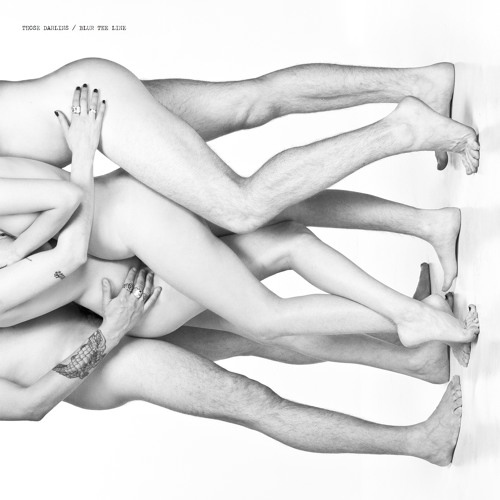 Until now,
Those Darlins
seemed to be just another girl-fronted rock band who took '60s girl group melodies and coated them in fuzz-rock. It served them well, and album
'Screws Get Loose'
was a decent effort, the title-track in particular being a standout. Now they return with new album that's wrapped in slightly controversial artwork and with a single that has a slightly controversial video. More importantly, they seem to have grown as a band, and 'Optimist' is probably their best track to date, taking a few more influences in along the way.
Sticking to those same honeyed melodies that people have been using for years and still relying on fuzzy guitar to provide the backing, 'Optimist' is simply a better song. It's more memorable, seems to be better written and has a pop aspect which they achieve without compromising their sound too much. Really this is like a female Ramones in full flight and it sounds great. It's certainly a song for the repeat button as it whizzes past barely giving you time to catch your breath. More like this please.
Those Darlins'
website
Catch them live:
08/31/13
Troy, OH, TROY MEMORIAL STADIUM
09/05/13
Oxford, PROUD LARRYS
09/07/13
Guthrie, OK, COTTONWOOD FLATS
09/13/13
Tallahassee, FL, CLUB DOWNUNDER
09/14/13
St. Augustine, FL, FL, FRANCIS FIELD
09/27/13
Gambier, OH, Kenyon College
10/03/13
Atlanta, GA, THE EARL
10/04/13
Nashville, TN, MERCY LOUNGE
10/05/13
Chattanooga, JJ'S BOHEMIA
10/09/13
Knoxville, TN, THE PILOT LIGHT
10/10/13
Charlottesville, VA, THE SOUTHERN
10/11/13
Baltimore, MD
, THE METRO GALLERY
10/12/13
Brooklyn, NY, UNION POOL
10/13/13
Allston, MA, GREAT SCOTT
10/14/13
New York, NY, NY, MERCURY LOUNGE
10/16/13
Philadelphia, PA, BOOT & SADDLE
10/17/13
Washington DC, BLACK CAT
10/18/13
Pittsburgh, PA, CLUB CAFÉ
10/20/13
Cincinnati, OH, THE NORTHSIDE TAVERN
10/22/13
Cleveland, OH, BEACHLAND TAVERN
10/23/13
Detroit, MI, MAGIC STICK LOUNGE
10/24/13
Madison, WI, THE FREQUENCY
10/25/13
Minneapolis, MN, 7TH STREET ENTRANCE
10/26/13
Chicago, IL, SCHUBAS
11/01/13
New Orleans, LA, VOODOO MUSIC EXPERIENCE
11/02/13
Austin, TX, RED7
11/05/13
Phoenix, AZ, RHYTHM ROOM
11/07/13
Los Angeles, CA, THE ECHO
11/08/13
Santa Ana, CA, THE CONSTELLATION ROOM
11/13/13
San Francisco, CA, CA, THE CHAPEL
11/15/13
Seattle, WA, BARBOZA
11/16/13
Portland, OR, BUNK BAR
11/19/13
Denver, CO, HI-DIVE
11/21/13
Kansas City, KS, THE RECORD BAR
11/22/13
Carbondale, IL, HANGAR 9
11/23/13
Louisville, KY, ZANZABAR
For more news, reviews and downloads follow The Sound Of Confusion on
Facebook
or
Twitter
contact@thesoundofconfusion.com