Album review by kev@thesoundofconfusion.co.uk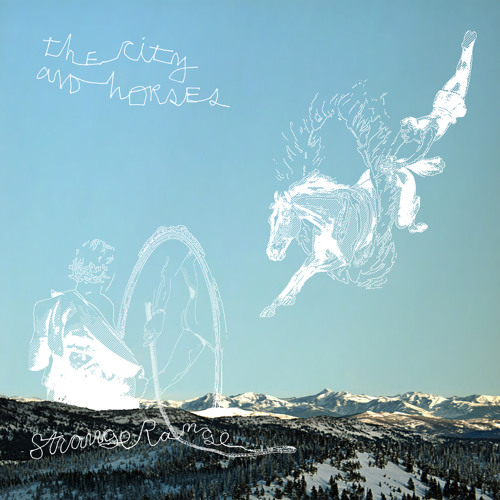 It's a little difficult to know what to make of
The City and Horses
new album. At the risk of stating the bleedingly obvious, it's one of those albums you'll either get or you won't. To explain that further, some albums, although you may not personally be a fan, are clearly pretty good. I'm not particularly keen on Radiohead, but 'OK Computer' is an excellent album, albeit one I haven't felt the inclination to listen to for over a decade. 'Strange Range' is definitely not an album that will be generally perceived to be great in any kind of level approaching that, but it's no horror show.
The City and Horses, as you may be aware, deal in indie/pop type songs, and their new album is engineered so that the vocals take precedent over the music (with the possible exception of standout 'Kawaii Dance'). The music by the way, would be considered a quirky form of indiepop that occasionally crosses into alt-rock. The record really hinges on the lyrics: often the lyrics are witty, but whether lines such as
"You're pretty pretty and so is your mister, and you're both pretty happy, so do you have a sister... who styles her hair and smiles like you do... if you do then that's great, could you set up a date?"
(from 'Pretty Pretty') will float your boat or not will likely decide if this is an album for you. It's a shame because musically it's a high point, as is 'I Have My Reasons' and 'All Of These Things'. They do get it right on 'Re-Inking' and 'My Strange Ways' sees their formula working as it should. They have a genuine highlight in 'Cool Joe'.
From a personal point of view, there are certain aspects that fail The City and Horses, as they have obvious talent. Yet the lyrics are sometimes a bit too "quirky", and so too is the music. It's difficult to take seriously and maybe it's not designed to be taken seriously, but it's not humerous or offbeat enough to be taken any other way. 'Whip' could be excellent if it didn't take this approach, the instrumental ending sounds very good; the twee '17' almost works but the lyrics are a bit dorky in the way they talk about smoking weed. Too much of the album follows similar ideas which don't suit
my
personal taste, but that's not to say they won't suit others. 'Strange Range' isn't a bad album, and maybe the good just outweighs the bad. However, it may possibly have a limited appeal and needs to choose between being novelty or serious, and the latter is something they clearly have the ability to do.
The City and Horses'
website
Stream or buy the album
Catch them live:
Sep 26 Kung Fu Necktie, Philadelphia, PA
Dec 14 Johnny Brenda's, Philadelphia, PA
For more news, reviews and downloads follow The Sound Of Confusion on
Facebook
or
Twitter
contact@thesoundofconfusion.com