Album review by kev@thesoundofconfusion.co.uk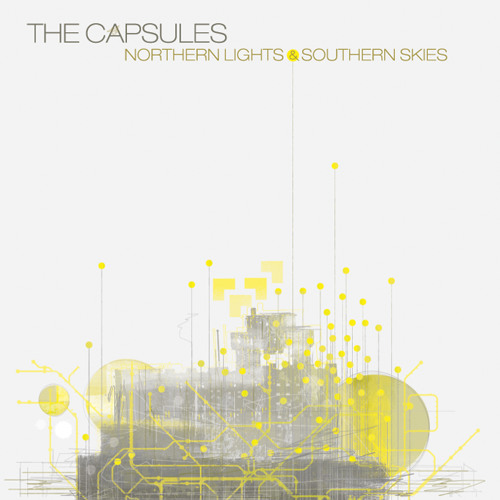 Dreampop is a funny old word. It's currently in heavy use, especially on this site as we tend to feature many bands that come in the genre's various guises. Skip back even a decade and the word was far less common. Whether it's the word that has come into fashion or the styles of music it represents is open to debate, but it's this word that Dallas-based, Kansas-born
The Capsules
use to describe themselves. They're not the light, fuzzy, shoegazey form of dreampop, nor the ambient soundscape variety. The Capsules are simply an alternative pop band with regular songs that have a certain dreamlike quality to them.
Essentially, if you've spent several years looking for a band to bridge the gap between The Sundays and Dubstar then you're in luck, as this is pretty much the size of things on this very fine album. Naturally it's the vocals that bring about this comparison: feminine, sweet, slightly casual and delightfully tuneful without the need for any form of showing off. You could also add Saint Etienne into the mix in that respect. Opener 'Across The Sky' is about as harsh as their sound gets, along with the buzzing 'Our Apocalypse', and the former is only for the opening bars. By the time we've moved onto second track 'From The Start' we're on a delicate, beautifully sung song that's sounds like a broken heart. The electronic beats jitter, the bass inconspicuously holds the song together while guitars and piano add the melodic lines.
It's this format that makes up much of 'Northern Lights & Southern Skies', but it works so successfully that it's difficult to complain about, although if you were to nitpick then you could accuse The Capsules of being a little repetitive, but there are songs like 'With Signs Repeating' which up the pace and lift them away from the dreampop genre that little bit more. With dreaminess fully restored, 'The Heartbreaker' leads into single
'Time Will Only Tell'
and then the stuttering, mysterious 'Test Drive The Other Side'. Again there's a more uptempo feel to the next section of the album, most notably the cinematic 'Where It All Begins' but also on the pristine alt-pop of 'All At Once' which recalls School Of Seven Bells. It's then left to the goreous lullaby 'Magnetic Fields' to tuck the album up safely in bed to enjoy more of its dreams. 'Northern Lights & Southern Skies' may not be dreampop as we know it, but it presents a different vision, and one that's worth experiencing many times.
The Capsules'
website
Buy the album
For more news, reviews and downloads follow The Sound Of Confusion on
Facebook
or
Twitter
contact@thesoundofconfusion.com