Album review by kev@thesoundofconfusion.co.uk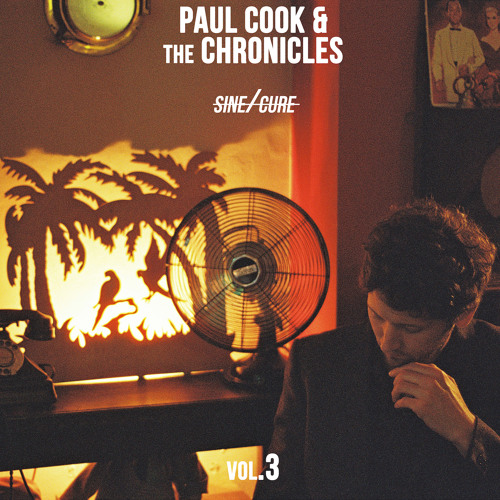 "Sine" is a word used in trigonometry, so could it be more than a coincidence that
Paul Cook and The Chronicles
have used it in the title of their third album, 'Volume 3'? With two stunning efforts behind them (check out
'Volume 1'
and
'Volume 2'
), perhaps this third set completes the trilogy; it's the final part of the tragedy, the "cure" to the heartache that has driven his music so far? In a way a trilogy seems natural and sensible, but with all albums successfully addressing similar problems in similar ways, do we want Paul Cook and The Chronicles to change? I guess that depends on what the next step is, if there is one of course.
"How much would I give for consolation? What can I do, my mouth is dry, my eyes are wide from pictures of you."
It's this line that begins 'Devil's Tune', and it doesn't matter that the songs have so often dealt with broken hearts and feeling lost, because whenever Paul Cook's voice is added you immediately cock your ears like a puppy and listen intently, hanging on every breath; it's arguably his most formidable weapon, if something so gentle can be described so. The songs he crafts defy all logic by being acoustic numbers that are almost totally at odds with any nu-folk notions, it's simply on a different level. You can feel every word, every ounce of pain, and every beautifully delivered harmony sounds pristine ('Silence Is Over' being a particularly good example).
Fighting and blackmail are dealt with delicately on 'Easy Target', on 'Long Way Down' he asks someone to ignore what their heart says and on 'Remains' he simply pleads for help and says there's
"no change here"
. 'I'll Forgive You' once more details the confusion and pain of relationships:
"I was robbed by how much you mattered, but I just couldn't catch on."
The resigned 'What's New' (
"I just can't do right by you"
) perhaps sums things up. These are just songs, Paul Cook could be the happiest man in the world, or this could be a diary of his personal experiences. It doesn't matter. What Paul Cook and The Chronicles have proved for a third successive album is that they're maters of converting despair into beauty, and whatever the future holds, a little bit of us will always want Paul Cook to never quite get the girl, because it makes for some spellbinding music.
Paul Cook and The Chronicles'
website
Pre-order the album
(Available Aug 12th)
For more news, reviews and downloads follow The Sound Of Confusion on
Facebook
or
Twitter
contact@thesoundofconfusion.com