Single review by kev@thesoundofconfusion.co.uk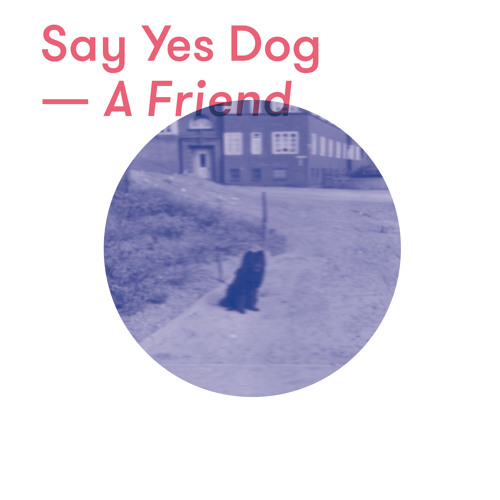 It hadn't dawned on me before, and it may not be the case, this could just be a daft band name, but I wonder if
Say Yes Dog
is anything to do with a certain car insurance company? If that is where the name comes from and the trio continue their rise then I think a potential money-spinning tie-in could be in order. But considering they're from Luxembourg and possibly Germany, and are currently based in the Netherlands then that's unlikely. Perhaps they're just not that much of a serious band. 'A Friend' is certainly a fun track and is a lovably wobbly and slightly strange electro-pop tune.
We featured
'Get It'
from this self-released debut EP earlier in the year and remarked on the similarity to Hot Chip. Hot Chip are a band I
like
rather than love. They haven't quite matched their breakthrough album so could maybe do with a little freshening up. Perhaps if they were to collaborate with these guys and inject a bit more bouncy fun and madness into their songs but without diverting to any novelty aspects then that would work. Still, they seem to be doing well commercially so probably aren't fussed. But, for now at least, I'll be keeping a closer eye out for new material from Say Yes Dog. An exciting band on the rise.
Say Yes Dog's
website
Buy the EP
Catch them live:
THU 14 NOV Café CoX, Amsterdam, Netherlands
FRI 15 NOV De Supermarkt, Bar En Poppodium, The Hague, Netherlands
MON18 NOV Unikneipe Fatal, Landau, Germany
TUE 19 NOV Schon Schön, Mainz, Germany
THU 21 NOV Astra-stube Hamburg, Germany
FRI 22 NOV Zwölfzehn, Stuttgart, Germany
SAT 23 NOV Seven, Geldern, Germany
MON 25 NOV Weekender. Innsbruck, Austria
TUE 26 NOV Blue Shell, Cologne, Germany
WED 27 NOV Privat Club, Berlin, Germany
THU 28 NOV Aaltra, Chemnitz, Germany
SAT 30 NOV Noch Besser Leben, Leipzig, Germany
For more news, reviews and downloads follow The Sound Of Confusion on
Facebook
or
Twitter
contact@thesoundofconfusion.com