Album review by jay@thesoundofconfusion.co.uk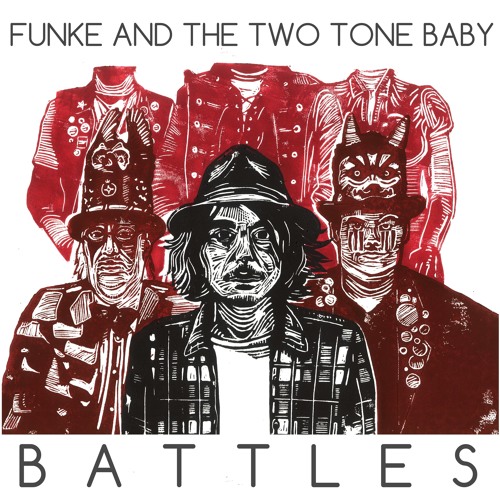 It is always a good sign when within the first verse your foot is tapping and head bobbing. By the time we get fully into 'Bella's Kiss' I am grooving like an apoplectic orangutan to the utterly irresistible, elemental delight that is the opening track on
Funke and The Two Tone Baby's
debut album 'Battles'. It is built upon air-tight beats and a wailing mouth organ all tied together by Funke's earthy, sweet growl. With 'Bella's Kiss' you are instantly rewarded for stepping into Funke's world. And the journey continues with 'Mountains' a warmer, looser vibe than 'Bella..' but no lees intoxicating. By the time the electric makes it mark you are in deep and simply standing and dancing on top of 'Mountain'. The secret to its success is that is has such a glorious looseness to it, that when Funke switches pace a little, or drops another subtle change of beat, it all adds to the sky-high ride.
Then we are taken down to the basics. The distilled essence of what makes us all tick. A woman, the blues and a perfectly executed guitar and tambourine. This may all sound bare-boned, sparse, but it is far from lacking warmth and pleasure. As 'The Woman Who Stood on The Edge of The World' unfolds, the bass steps in and we are taken on a near jazz trip, certainly one that swings as we hear a tale of the woman waiting for her one true love, maybe seeing that he is coming back to her. We then step into a true British feel of yore. 'Ode to the Pirate Ghost Witch' is woven from the very fabric of the sound of our Isles. This is folk music at its purest and simplest. Its sounds are honed from centuries of living within our shores; where the blues could have only been grown in a swamped delta, folk like this is quintessentially our own. Following a linage from minstrels to shanties, though Zepp and Sandy Deny to Frank Turner and The Unthanks. 'Ode...' is at times enchanting, stirring, impassioned: a high point of 'Battles'. The title-track follows and sits on a vital strum and crackling, lightning-filled guitar bolts blistering across its face. One of those utterly irresistible loops runs through the song, giving you a platform to cling onto as the elements are brought down around you. A strike of pure intensity.
If 'Battles' closed side one, then 'I 'll Love You' lifts and dances us into side two. This is us stepping back into the world of folk. The folk of the dance, the whirligig, a hand-holding delight where you look into the girl's eye as you both spin around and there is only the two of you in the world. After 'Battles' barely controlled fury, it initially sounded a little twee. Then 'I'll Love You' becomes a wonderful duet. A rich, elegant female contrasts against Funke's tones and lyrically the song mirrors the dance of the music, as both end up in love and in each others arms. We are then taken to a darker place with 'Now You See Me'. It is almost the fallout from the rush of love that was before. The love still is there, but life is testing its strength and depth. A sublime beat box adds a subtle depth and dynamic to the song. The song pushes out to its conclusion on a thrilling harmonica, leaving you near spent and breathless. Funke then lands us into his biggest, fattest, orneriest groove yet. 'Cannonball' is a Waits-ian hit of pulsating, pounding groove; an orgy of Alabama 3, Beck, Royal Trux, all tied, bound and delivered in the singular Funke style.
If a song was ever perfectly described by its title then ' The Morning After' is it. It is fuelled by the regret of waking up next to a (possible) mistake,
"I'm sorry but I must be on my way"
we are told. It sits up, tries to shake the hangover off, walking
"into a strange part of town"
. In an album full of outstanding tracks, 'The Morning After' stands out. Songs like this made you fall for Jack White, and do the same for Funke. And so to the end of the journey. It has delivered so much more than expected, gone where you didn't see, and at all times given you rewards that make you went to return time and again. And we are left with the parting gift that is 'Winter's Return'. It is almost a case of saving the best till last. A song of epic scope and depth. It takes all of Funke's elemental foundations and builds into a song of effortless grace and charm. A perfect end.
Funke and The Two Tone Baby's
website
Stream or buy the album
Catch them live:
THU 03 OCT The Green Dragon, Croydon, UK
SAT 12 OCT The Muddy Duck, Rye, UK
FRI 18 OCT Rafters, Maidstone, UK
WED 23 OCT What's Cookin', Leytonstone, UK
THU 24 OCT, Earl's, Maidstone, UK
FRI 25 OCT Penny Theatre, Canterbury, UK
SAT 26 OCT The Red Cow, Folkestone, UK
SUN 27 OCT The Grey Lady, Royal Tunbridge Wells, UK
THU 31 OCT The Lifeboat, Margate, UK
SAT 02 NOV The Barge, Gillingham, UK
THU 07 NOV The Great Eastern, Brighton, UK
FRI 08 NOV The Lamb, Lewes, UK
SAT 09 NOV East Quay, Whitstable, UK
SUN 10 NOV The Little Albion Inn, Broadstairs, UK
SAT 16 NOV Bubble Club, Horsebridge Arts and Community Centre, Whitstable, UK
SAT 23 NOV The Divers Arms Herne Bay, UK
SUN 24 NOV Anchor Arts Centre, Canterbury, UK
SAT 30 NOV Neptune, Whitstable, UK
MON 02 DEC Chequers, Billericay, UK
WED 04 DEC La Raza, Cambridge, UK
THU 05 DEC Man Of Kent, Rochester, UK
SAT 07 DEC The Old Brewery Store, Faversham, UK
FRI 13 DEC Style & Winch, Maidstone, UK
For more news, reviews and downloads follow The Sound Of Confusion on
Facebook
or
Twitter
contact@thesoundofconfusion.com