EP review by kev@thesoundofconfusion.co.uk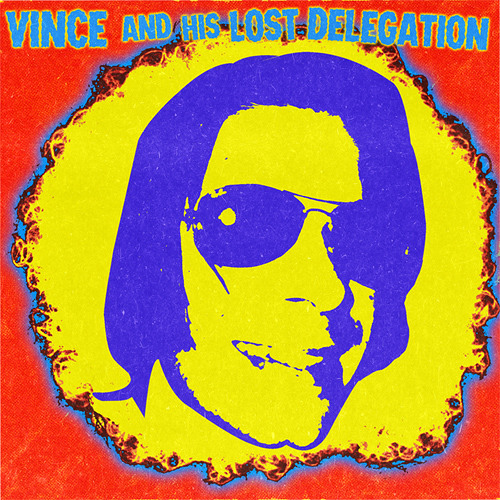 '12" EP' is the debut release from
Vince And His Lost Delegation
and you can check out all six tracks in full on
Bandcamp
. Vince Posadzki is (we think) a native of Quebec and is heavily influenced by the little known (to British ears anyway) garage and psych scene from that area in the 1960s. Just over a decade ago Vince moved to France and is a veteran of several bands in both locations. Where this new band is based we're not quite sure, but it matters little as the music is pretty universally awesome psychedelia that doesn't pin itself down to a particular place, time or scene.
Of the two songs we're featuring here, it's perhaps unsurprising that first offering 'Don't Want To Go Back There' is probably the strongest. With plenty of scuzzy guitar, a section that sounds like it's nicked from Dylan's 'Lay Lady Lay' and plenty of distortion on the vocals (we
think
he's singing in English, but it might as well be Klingon). The song is a deliberately untidy psychedelic trip through frenetic percussion and a sizable rack of pedals. It finishes with a blistering solo. The quality of this song doesn't quite manage to overshadow 'I Hate You', as although this is a slower track, it has a quite different charm that also mines '60s psych for its inspiration. The vocals are a sea of distortion again but the steady beat and the dreamy nature make this track a great deal more floaty and atmospheric. You might have to peel yourself off the ceiling afterwards.
Vince And His Delegation's
website
Buy the single
For more news, reviews and downloads follow The Sound Of Confusion on
Facebook
or
Twitter
contact@thesoundofconfusion.co.uk