Review by jay@thesoundofconfusion.co.uk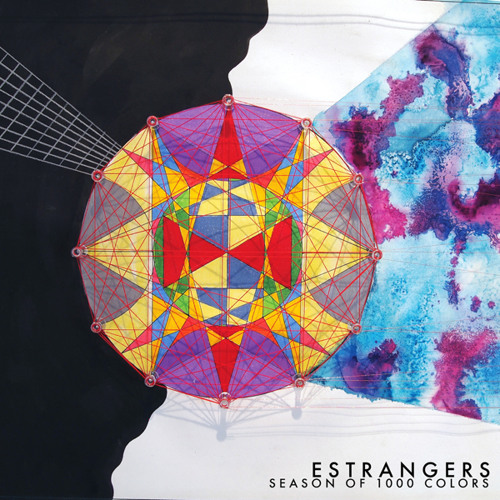 'Season of 1000 Colors' invites you in with a mellow, warm, unhurried, opener. All gentle tones, and laid-back feel. Instrumental 'El Paradiso' glides you in on a shimmering wave. Second track 'Cape Fear' unfurls like a flower in the sun.
Estrangers
deliver a singular brand of sun-bleached neo-psychedelic Americana, like Neil Young in a bath of psychotropic honey. Vocalist Phillip Pledger has a tone and pitch close to that of Jim James, and Estrangers sit comfortably next to My Morning Jacket. 'Scatterheart' sees Estrangers fielding a looser, garage-pop riot of a song, as if some lost classic resurrected by Tarantino; a short, sharp hit of a sugary high. 'Scatterheart' hits you straight and is surprisingly memorable for such a concise song. 'Dayzd' comes out a on waltzing Wurlitzer, a classic prom song. Its deft touch enhanced by sweeping harmonies, but there is substance and flare hidden in 'Dayzd'. All surf-twang guitar and flash-bang drums. It ebbs out in a haze of whirling sounds, and 'Moonraker' picks up a suitably Bond-esque vibe. At just over a minute 'Moonraker' swoons and is more solid than at first thought.
Coming out like early Band of Horses, 'Monarchs' houses a skyscraping chorus and is the best song so far. It rushes to you with strings and Pledger telling you of
"lucky stars"
and
"dying for rock 'n' roll"
. This is a song that rides along like James Dean on that motorcycle; a ride of pure, unadulterated bliss. It just keeps giving, asking you to loose yourself, which of course you do. After 'Monarchs'' rush, the stately 'Hold Me Close (L'Inverno)' is the perfect two-step gentle dance that you need to catch your breath. Pledger's crystal-clear delivery echoes the reverb of the rich guitar behind him, closing out on the line
"your love was a ghost"
. The swirling neo-psychedelic washes are perfectly captured by the next song's title: 'Blackberry Drift Mantra'. A short, sweet instrumental, clearing a path for 'Love's Pure Light', a mature Americana song. It has an urgent piano pumping underneath a track that is greater than the sum of its parts. The synth break adds an unexpected texture to the song like a less fried Flaming Lips. Another standout on the album.
With a title like 'Mrs Bee' we were unlikely to be greeted with some black metal blast. 'Mrs Bee' is a sweet, simple song. It has an effortless simplicity that is harder to realise than it seems; a song that swings around, surprisingly. It has remote similarities to Oasis' 'She's Electric', but is a much closer relation to Semisonic's 'Secret Smile'. A gorgeous title to quite a gorgeous song, with 'Sunmelt you can hear it soundtracking sweethearts dancing in the sun of a
"cloudless sky"
. It's a rich track that coats you in warm, comforting sounds. 'Las Puertas' is the perfect closure to roll over the end credits of 'Seasons of 1000 Colors'. You feel the warm, exciting, romantic day closing in and see the sweethearts walking away hand in hand. Estrangers have a made a enticing and at times enchanting album that grows with every listen.
Estrangers'
website
Stream or buy the album
Catch them live:
Jun 14, 2013 - Winston-Salem, NC, The Garage
Jul 20, 2013 - Asheville, NC, The Grey Eagle
Jul 26, 2013 - Charlotte, NC, RECESS FEST 6
Aug 02, 2013 - Durham, NC, The Pinhook
Aug 03, 2013 - Wilmington, NC, Soapbox Laundro Lounge
Sep 05, 2013 - Raleigh, NC, Hopscotch Music Festival
For more news, reviews and downloads follow The Sound Of Confusion on
Facebook
or
Twitter
contact@thesoundofconfusion.com