Album review by jay@thesoundofconfusion.co.uk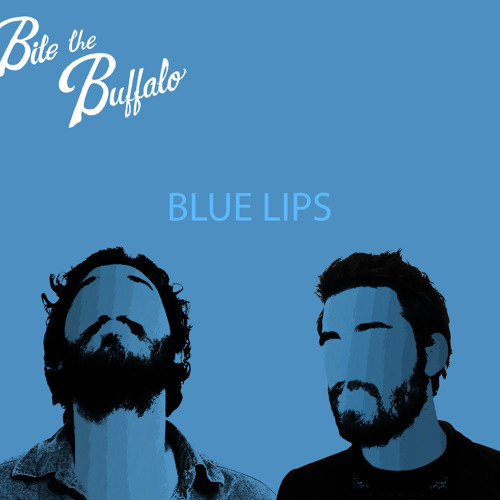 I was brought to the world of
Bite the Buffalo
in the best possible way: saw them live. Now I was told they were good, but I had no idea just how good. Live, they possess you and make you dance, shake and sweat. Before I continue I implore you, if you have the chance, to see them, do not miss them. And so to the brothers Stos and Miti who make up the band, and their album 'Blue Lips' which debuted in February of this year. 'Blue Lips' fires off with the quite exquisitely titled 'Captain Membrane & The Skeptical Jigga'. It drops with a proto-raw blues harmonica and startling cymbals before gloriously crashing into a massive stomping groove. It takes seconds before your is a head shakin'. 'Captain...' has an urgency that just can not be stopped. It breaks down into a flash-bomb blues-blast and 'Blue Lips' is truly a go. By the end all of you is a shakin' and a stompin'. Up next, 'Tell Me What The Dead Folk Know'. This is a glam-tinged riot that could raise the dead and get them dancing. Regardless of how Bite the Buffalo wear there influences, name-checking Janis Joplin here, you simply don't care and let them take you away. Resistance is useless.
Title-track
'Blue Lips'
is a richer southern boogie than the riots before. Sounding like it was born in some deep steaming, swamp and not a Dorset lighthouse. Bite the Buffalo throw in flourishes of keys which add texture, then tip the song into a Jefferson Airplane deep-tripping groove. 'Jackknife Blues' is a filthy, dirty track. Moonshine flows as the song explores haunting touches that places it somewhere Lynchian, crossed with the Detroit blues of the early '00s. Stepping, stomping, back up the tempo, 'Dead Of The Night' houses a huge chorus that hits you like a blade from some peyote filled, yet devilishly handsome killer. 'Dead Of The Night' then exits on a blood-letting solo. On 'Blue Lips' Bite the Buffalo aren't giving you anything new, in fact it is a sound steeped in the earthiest, earliest history of modern music, but they deliver it with magnificent style. 'I Get Down And Around' is aptly-titled. It implores you
"to get down"
and, well, goddamn, you do. With sheer abandonment. As it ends, you are hot and breathless, in the best way. Shoe box blues song 'Devil And The Dodo' has an underlying, almost pop undercurrent. Like BRMC on their lost classic 'Howl', this is musically one of the sparsest songs here, but it stands out as one of the most rewarding. The electric hums again on 'My Gun In Blue'. And damn does it work hard here. 'My Gun...' is filled with handclaps and
"woos"
that simply tie you down and wonderfully pummel you with an unbridled blues attack.
'Calamity' is the most pedestrian track on 'Blue Lips'. Ordinarily it would stand out, but when an album is stuffed with so many sonic sucker-punches it suffers slightly. It does have quite an extraordinary wig-out, but it comes closest to the big Jack White Elephant in the room. 'With The Thief' has flashes of '60s-laced psych-pop and is a dreamy shuffle of a song that shimmers, cooling you down. Campfire song 'Tied' is a welcoming, communal pleasure of a song. Its embrace is built on simple things and has a hushed glory that reminds of early Polyphonic Spree. The blues are brought ringing back in with 'Cherry Window Blues'. This is the blues of Cream and Stephenwolf. 'Cherry Window Blues' is a mature and tight song, It talks of
"rollin' along"
, and carries you in its wake. As you think it's all done, an incendiary blast of raw, howlin' blues is punched out, taking 'Cherry Window Blues' out in fiery, splenetic grandeur. An so to 'Dusty Cage' and the end. 'Dusty Cage' is stripped, acoustic blues from the porch of a weathered pine cabin. It ends the album perfectly. 'Blue Lips' is a trip. A raw blues, human trip that just begs to be taken over and over...
Bite The Buffalo's
website
Stream the album in full
Buy the album
For more news, reviews and downloads follow The Sound Of Confusion on
Facebook
or
Twitter
contact@thesoundofconfusion.com