Album review by bloopie@thesoundofconfusion.co.uk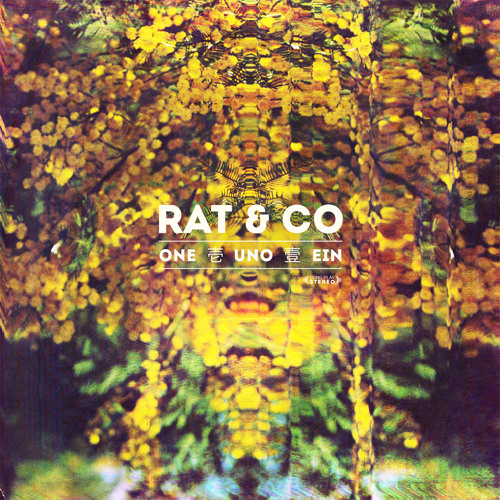 'One (壱) Uno (壹) Ein' is the new 10-track album from
Rat & Co
, the invention of Melbourne-based Joshua Delaney who started off solo in 2010 and has since pledged three new band-members.
It opens with 'The Letter', an emotionally evoking track that sets up the tone for the rest of the album - soothingly mellow and deeply expressive. The following number,
'Vision'
, is quite beautifully mysterious with an eerie, haunting prelude that gradually builds up into sounding like the intro to a Foals record.
'8 Bit Death' is gracefully serene, but the repetitive spectral-like "
ooh's
" and "
aah's
" seem to overshadow the final three minutes of it.
'Seawind'
starts off reminding me of Aphex Twin's 'Windowlicker' for a brief few seconds, and I wonder if that's pure coincidence or an indication of Delaney's diverse inspirations for this album. 'Fourth Sun', arguably the best track here, is unstrategically located somewhere in the album's midsection. I'm surprised because it's a gem buried between two of the weaker numbers on the album in 'Now You're Dreaming' and 'Nebula'. It's that sweet, uplifting indie track that starts playing moments before the guy gets the girl and ends just as credits start to roll. I think it delivers the kind of satisfying closure that should have been left for the ending.
'Dark Jam', the final track, proves to be a wildcard. It's an odd piece on its own, and considerably more so when elected to end an album comprised of mostly soft, astral melodies. An ominous, dystopian synth consistently lingers in the background while the 'Mortal Kombat' announcer takes his time going through the alphabet. By the 6th or 7th listen though, I must admit it grew on me. 'One (壱) Uno (壹) Ein' feels like an introverted saunter in which the artist is indulging himself in the otherworldly tunes he had envisioned and brought to life. There are some brilliant highlights, even if it tends to stay in familiar territory for much of its run-time. I get the feeling that Joshua Delaney is in the formative stages of shaping his sound, and his music will keep evolving intriguingly.
Rat & Co's
website
Stream or buy the album
For more news, reviews and downloads follow The Sound Of Confusion on
Facebook
or
Twitter
contact@thesoundofconfusion.co.uk