Single review by kev@thesoundofconfusion.co.uk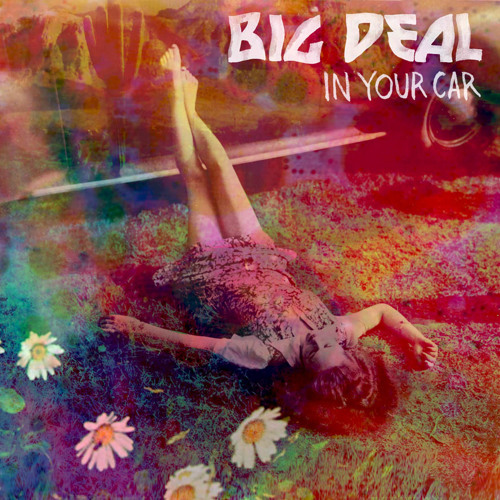 As they gear up for the release of their second album 'June Gloom' (released in June, naturally) London duo
Big Deal
serve up the record's first single, 'In Your Car', which will be out in April. June isn't known for it's gloom unless you're a fan of British tennis players or not having mud at Glastonbury, and the cover art with its psychedelic design and giant daisies doesn't seem very miserable to us. Maybe we're being lulled into a false sense of security here and the album will be a heavy-hearted misery-fest. A predominant lyric to this song is "
it's a secret
" after all.
No, 'In Your Car' is very much a big summery indie tune with a slightly gritty, almost grungy verse and then a light chorus that sounds like sunshine, but not in a sickly way. It's a wonderful comeback. "
Driving in your car, I wanna be where ever you are, asleep in the back seat, there's nothing more that I'll ever need
" doesn't sound particularly downbeat to us. So we're guessing they're big liars and we're taking out a tenner on Murray for the men's at Wimbledon and Robson for the women's, plus a Beatles reformation for the Sunday night headline spot down on Worth Farm. You heard it here first.
Big Deal's
website
For more news, reviews and downloads follow The Sound Of Confusion on
Facebook
or
Twitter
contact@thesoundofconfusion.co.uk