Album review by KevW for
www.soundsxp.com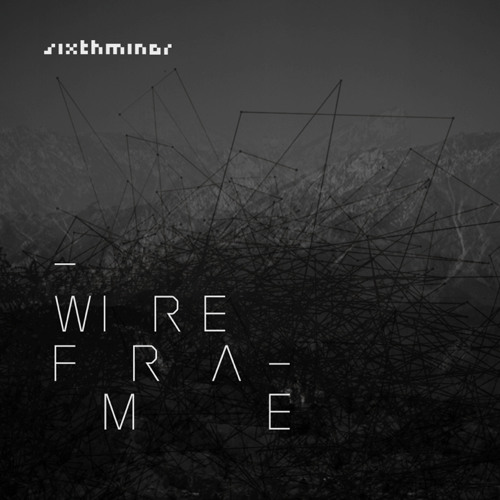 The trouble with a lot of experimental electronic music is that, unless you have a particular interest in such sounds, it can be almost impenetrable to the casual listener. Naturally, this is the case with any niche genres, especially those at the forefront of new sonic exploration, but when these things are watered down or an attempt is made to make them more palatable to a wider market, you end up with people like Skrillex.
Sixth Minor
can hardly be described as daytime radio fodder, but they do create a noise that will cross over into other sections of the musical spectrum. Formed in Italy in 2007, it's taken a while for their first full-length to reach UK shores, and when you learn that their take on experimental electronica is inspired by post-rock and ambient music, you can pretty well see the pop fans running for the hills.
'Wireframe' is cutting-edge, it is entirely instrumental, and you probably would describe these eight tracks as soundscapes, yet, unless you're expecting One Direction, it's a very listenable and engaging set. Sure, the glitchy, atmospheric, pulsating 'frozen' may edge past the seven-minute mark, and the forbidding and stark 'greyhues' flies past eight, but both have substance, both are layered and don't get stuck into the ease of repetition. The latter even stomps its way to becoming a cranium-shuddering electro-rock monster. If you're looking for something a little more song-based, then Sixth Minor manage to provide without compromising their vision.
Perhaps it's the use of more conventional instruments like guitar and real drums that give the intense and careering 'eser' its accessibility, providing an easier route into their low-end sounds and quaking sonics, but whatever it is, it certainly works. After that introduction, the bleaker side of things is ramped up for 'blackwood'; a little more left-field but just as intense and verges on metal. 'etif' is a little lighter, as its jumbled beats are married with chiming guitar and the sense of urgency is replaced by something a touch more accommodating without losing any of the pace, although it offers up a crunching mid-section before bowing out with an array of twinkles. Ambient interlude 'last day on earth' allows you to get your breath back before the stabbing, jagged 'hexagone' slaps you awake again. The most abstract of all is 'outro', a track that's a mess of bleeps and glitches and chimes, all piled on top of each other, and it's really quite charming with it. Don't expect Sixth Minor to go platinum any time soon, but whatever your taste, give them a try. You might just find something you like.
Sixth Minor's
website
Stream or buy the album
Follow The Sound Of Confusion on
Facebook
or
Twitter
contact@thesoundofconfusion.com