Album review by kev@thesoundofconfusion.co.uk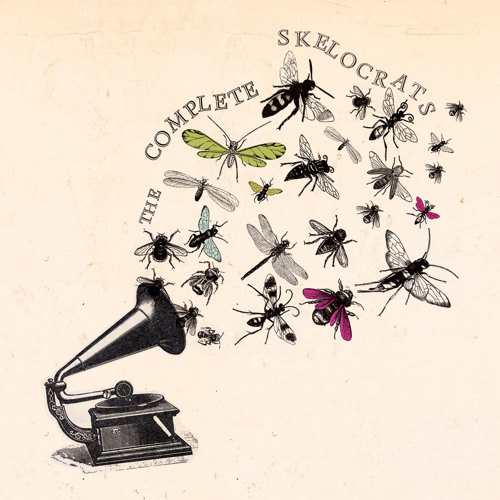 Rocketing through fifteen tracks in just 37 minutes, it's fair to say that this album from Dublin's
Skelocrats
is something of a blitz. Oddly though, it doesn't feel rushed or hurried in any way despite the fact that the music barely pauses for breath. They don't really do ballads. As suggested by the title, 'The Complete Skelocrats' is, in their own words "the exhaustive story of the Skelocrats", acting as both debut album and compilation of their EPs thus far, a little like The Beta Band's 'Three EPs' maybe. So this "exhaustive story" then; several years of recordings brought together for the first time? Nope, this quartet's idea of exhaustive is everything they recorded between last February and October.
Aside from learning that they're quite prolific, we also learn that writing great guitar-pop seems to them to be a piece of piss and 'The Complete Skelocrats' puts many other bands to shame. Despite the intro to opening track 'Hot Yoga' sounding a bit like two songs playing at once, this is an album that is chock-full of brilliantly melodic, fizzing indiepop; a classic formula of buzzing, reverberating, jangling sugar-rush musical explosions. From the Raveonettes-finding-the-light of 'Bitten By The Bug' onward, this is pure ear candy for anyone who likes the hum of DIY indie, the jingle of tambourines and boy/girl vocals. By the way, if the word "twee" is beginning to pop into your head then forget it. It's a beautiful noise as opposed to anything cutsie.
There's the odd variation; 'Beat Your Buddies' has a 60s garage thing going on and 'I Didn't Want To Let You Go' is warped bluesy folk, but the real highlights are the classic fuzz-coated tunes like the gorgeous 'Instant Mummification', the lo-fi clatter of 'It Takes All My Time', 'New Situation', 'To My Own White Parlour', 'Better Days For The Eskimos', Little Mo'... the list goes on. With news this week that a couple of scuzzy indiepop heroes, Standard Fare and Shrag, are calling it a day, it's great to know that there are bands like Skelocrats out there ready to take their place. A wonderful collection of songs.
Skelocrats'
website
Stream or buy the album
For more news, reviews and downloads follow The Sound Of Confusion on
Facebook
or
Twitter
contact@thesoundofconfusion.co.uk