Single review by kev@thesoundofconfusion.co.uk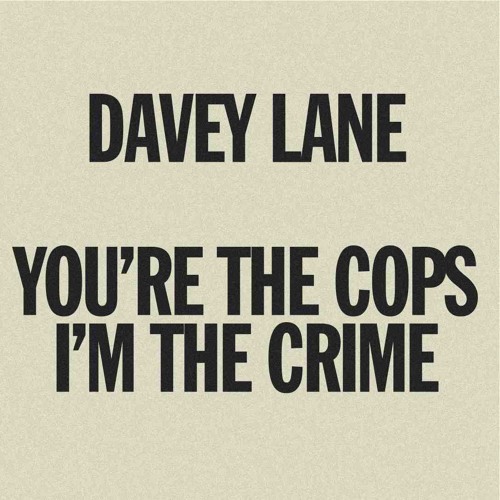 The name
Davey Lane
might not be familiar to most fans of alternative music, but his music will have been heard by many as he spent over a decade as the guitarist with Australian group You Am I. With an EP now available ('The Good Borne of Bad Tymes') he's announcing his arrival as a solo artist with this début single, 'You're The Cops, I'm The Crime', a song that would be fit for any guitar band of stature, so his solo career may have the potential to emulate that of his band, certainly in terms of quality, sales are increasingly difficult to predict.
With every intention of giving himself a fighting chance on all fronts, and that includes keeping his music "credible" for people who worry about such things, the intention is for Davey to write pop songs that are filled with as many hooks as he can muster. So we can expect songs that are reasonably concise in length but have enough ideas to fill an entire album by lesser artists (perhaps the line
"you're the water, I'm the wine"
says it best). With this catchy number he's got off to a flying start and laid down a gauntlet for himself: keep this standard up and the (music) world is his oyster.
Davey Lane's
website
Buy the EP
Catch them live:
Sep 20 The Wool Exchange, Geelong, Australia
Sep 21 The Bridge Hotel, Castlemaine, Australia
Sep 26 Heritage Hotel, Wollongong Nsw, Australia
Sep 27 Great Northern, Newcastle, Australia
Sep 28 Spectrum, Sydney, Australia
Oct 03 Karova Lounge, Ballarat, Ballarat, Australia
Oct 04 Jive, Adelaide, Adelaide Sa, Australia
Oct 05 The Tote, Melbourne, Melbourne, Australia
For more news, reviews and downloads follow The Sound Of Confusion on
Facebook
or
Twitter
contact@thesoundofconfusion.com