Single review by kev@thesoundofconfusion.co.uk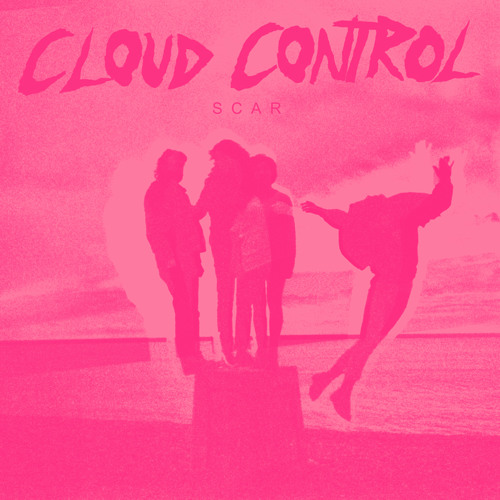 After a few years on the scene, Aussie band
Cloud Control
have got to the point where it's simply expected that their tunes are going to be good, not hoped they will. This gives them no reason to rest on their laurels of course, but it does show that they're both consistent and, well, pretty good really. In their homeland (although they may have set up camp in London for now) new album 'Dream Cave' has been out for a month, but us Northern Hemisphere folk have to wait until next week. Almost unbelievably, this is only their second full-length, but if that sounds surprising it should be noted they have an extensive list of singles and EPs to their name too, dating back over six years.
What with the internet and streaming and imports and you naughty folk with you torrents and all (fine, but go and
buy
the album when it becomes available) it might already be known to some, especially single 'Scar'. This is the kind of song you don't really want to keep under wraps for long though. It has an inauspicious guitar-pop start that has hallmarked much of their work, and then; bang. It all kicks in. The big beats, the harmonies, the life-affirming melody and the track hits the clouds (no pun intended). There's a good argument for 'Scar' being their best song to date, but I'm sure there will be long-term fans out there who will always prefer the early stuff. Because that's how it works, right?
Cloud Control's
website
Buy the single
Catch them live:
Sep 11 Bar on the Hill, Newcastle, Australia
Sep 12 The Metro Theatre, Sydney, Australia
Sep 23 XOYO, London, United Kingdom
Sep 24 The Deaf Institute, Manchester, United Kingdom
Sep 25 King Tuts, Glasgow, United Kingdom
Sep 26 Hare & Hounds, Birmingham, United Kingdom
Sep 27 Start The Bus, Bristol, United Kingdom
Sep 30 La Flèche d'Or, Paris, France
Oct 01 Botanique, Sint Joost Ten Node, Belgium
Oct 02 Bitterzoet, Amsterdam, Netherlands
Oct 04 Magnet Club, Berlin, Germany
Oct 05 Molotow, Hamburg, Germany
Oct 15 Junction, Cambridge, UK
Oct 16 Waterfront, Norwich, UK
Oct 17 O2 Academy Brixton, London, UK
Oct 20 Sage Gateshead, Gateshead, UK
Oct 21 The Arches, Glasgow, Glasgow, UK
Oct 22 The Limelight, Belfast, UK
Oct 24 Olympia Theatre, Dublin, Ireland
Oct 25 Leadmill, Sheffield, UK
Oct 26 The Ritz, Manchester, UK
Oct 27 O2 Academy Bristol, Bristol, UK
Oct 29 Southampton Uni Students Union, Southampton, UK
Oct 30 Paradiso Grote Zaal, Amsterdam, Netherlands
Oct 31 Ancienne Belgique, Brussels, Belgium
Nov 01 GEBAUDE 9, Cologne, Germany
Nov 03 Berns, Stockholm, Sweden
Nov 04 Vega, Copenhagen, Denmark
Nov 05 Voxhall, Aarhus, Denmark
Nov 06 Molotow, Hamburg, Germany
Nov 08 Flex, Vienna, Austria
Nov 09 Estragon Club, Statte Ta, Italy
Nov 11 Blackout, Rome, Italy
Nov 12 Viper, Florence, Italy
Nov 13 Fri-son, Fribourg, Switzerland
Nov 16 Joy Eslava, El Espinar, Spain
Nov 17 TMN ao Vivo, Lisbon, Portugal
Nov 19 Theatre Barbey, Bordeaux, France
Nov 20 Le Bataclan, Paris, France
For more news, reviews and downloads follow The Sound Of Confusion on
Facebook
or
Twitter
contact@thesoundofconfusion.com