Single review by kev@thesoundofconfusion.co.uk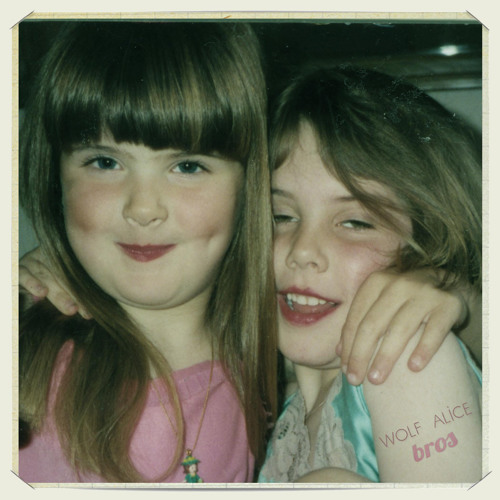 We reckon that London band
Wolf Alice
can feel slightly aggrieved that their name wasn't mentioned in a few more of the start of year tips lists. We can also have a rare smug moment in pointing you to our review from October where we described them as a group
"who's star is on the rise"
. Mind you, given the amount of bands we champion, our success rate probably isn't that high, so Mystic Meg won't be quaking in her boots just yet. Following the ace
'Fluffy'
, they're putting out new track 'Bros' on May 20th and it will be backed with the quality sterling track 'Every Cloud'.
It's probably not a homage to the late 80's boyband, but never mind. Instead, 'Bros' is like the wolf in Little Red Riding Hood. At first you think it is just nice old grandma, but as it goes on and unveils more and more layers of the very highest quality alt-rock you begin to notice there's a monster underneath that reasonably tame beginning. In fact it grows to become quite a stunner. They tone things down for 'Every Cloud', but this isn't detrimental as the song is, again, quite splendid in an unusual dreampop type of way. Quite possibly one of the most exciting new bands in the country at the moment.
Wolf Alice's
website
Pre-order the single
Catch them live:
Thursday 2nd May Birthdays, London w/ Peace [SOLD OUT]
Saturday 4th May Live At Leeds Festival
Sunday 5th May City.Sound.Project, Canterbury
Thursday 16th May Great Escape Festival, Brighton
Saturday 18th May Tolhuistuin, Amsterdam
Monday 20th May Kasbah, Coventry
Tuesday 21st May Bar Bloc, Glasgow
Wednesday 22nd May Westgarth Social Club, Middlesbrough
Thursday 23rd May Think Tank at Hoults Yard, Newcastle
Friday 24th May Dot to Dot, Manchester
Saturday 25th May Dot to Dot, Bristol
Sunday 26th May Dot to Dot, Nottingham
Tuesday 28th May Thekla, Bristol w/ Tribes
Wedsnesday 29th May Roundhouse, London w/ Tribes
Thursday 30th May Arts Centre, Norwich
Friday 31st May The Victoria, Birmingham
Saturday 1st June Buffalo Bar, Cardiff
Monday 3rd June Joiners, Southampton
Tuesday 4th June The Lexington, London
Wednesday 5th June Jericho, Oxford
Thursday 6th June Shipping Forecast, Liverpool
Friday 7th June Esquires, Bedford
Saturday 8th June 60 Million Postcards, Bournemouth
For more news, reviews and downloads follow The Sound Of Confusion on
Facebook
or
Twitter
contact@thesoundofconfusion.co.uk