Album review by kev@thesoundofconfusion.co.uk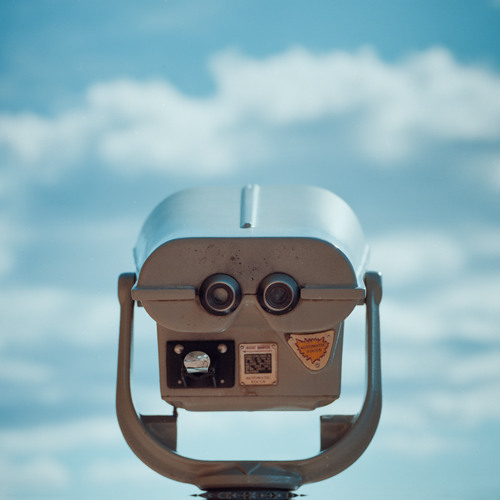 If you're up on your American geography then you might know that
Little Tybee
is the name of an island of the coast of Georgia. If you're up on your US indie/pop bands then you might also know it's the name of a band, and if you put two and two together you might work out that the band are based in Atlanta, GA. 'For Distant Viewing' will be the third full-length from this quintet and it walks along the line between dreampop and commercial guitar-pop, hopping from side to side over the course of eleven songs. At its best sounding not a million miles away from, say, Beach House, and at its worse sounding like they type of band who used to soundtrack The O.C.
This is a fact we pick up on early on. First track 'For Distant Viewing' is a mixture of folk, indie, pop and something a little more ethereal; it leaves you guessing just where the album will go. It begins to seem like a potential disappointment is in store when the folkish intro to 'Mind Grenade' gives way to fairly generic chart pop/rock that sells by the bucket load but you'd rather not listen to. It's bland, it's clean and it's just too damn polite. Third track 'Hearing Blue' follows a similar design, although is a slight improvement and picks up towards the end, and then, just as the mixed start has you wondering whether this will be an album worth sticking with, there's something of an about turn.
'Fantastic Planet' glimmers into life with a twinkling intro and an altogether different vibe. Again there's a slight folk element but Little Tybee pull out an ambient track that's far from boring and almost toys with psychedelia. 'Herman' is another decent track track with its own twists and turns; it's almost as if when they don't try and write a song tailored for radio we find the real Little Tybee, and they're a far more interesting prospect. You can hear the Beach House comparison on 'Boxcar Fair' and 'Jury Duty; despite the male lead vocal there's a similar huskiness. On 'The Boldest' they again hop back and forth over that line, eventually settling for the right side, something they stick to for 'Castle'. The overriding impression of 'For Distant Viewing' is that when Little Tybee go with the flow and make the music they want to make, rather than what they think they should be making, they have the ability to be far more impressive. It would be great to see them totally rip up the rule book.
Little Tybee's
website
Pre-order the album
For more news, reviews and downloads follow The Sound Of Confusion on
Facebook
or
Twitter
contact@thesoundofconfusion.co.uk