School Of Seven Bells - Secret Days
It's not taking US duo
School Of Seven Bells
much time to churn out plenty of decent music, and new EP 'Put Your Sad Down' came as a bit of a surprise being so soon after their previous release. Still, can't complain, their sound may be changing slightly and possibly heading in a more commercial direction, but songs like free taster 'Secret Days' prove they're still worth investing in.
School Of Seven Bells'
website
Stream the EP in full
Buy the EP
Nothing - Downward Years To Come
If you preferred School Of Seven Bells when they were a bit more shoegazey then you should find plenty of love for
Nothing
. With a few free tunes available on their
Bandcamp
page you can investigate more there, or go and buy new EP 'Downward Years To Come', the fuzz-heavy title-track from which you'll find for nothing below.
Nothing's
website
Buy the EP
Waylayers - Love Locked
Having spend a good amount of time touring and recording, London trio
Waylayers
release a new single, 'Magnets' this week. You'll find it to stream on the usual places, although we're enjoying the B-side just as much. 'Love Locked' is an equally impressive piece of electro-pop that deserves equal billing, and the great news is that you can download this track for free.
Waylayers'
website
Buy the single
The Faint - Evil Voices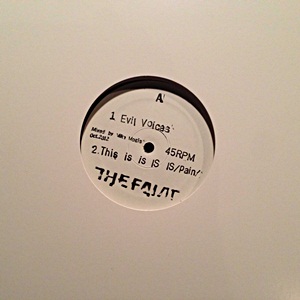 Omaha experimentalists
The Faint
are part way through a mammoth US tour and although they've been around for yonks they're still producing some gritty and experimental electro-punk like free single
Evil Voices
which is all sharp vocals and pummeling beats that sound as fresh as they've ever done. Sounds like they've still got plenty of ideas and a burning creative urge.
The Faint's
website
OBLIGATORY RECORD OF THE WEEK
Kid Wave - All I Want
A very late entry for OROTW this week. We first heard this single from brand new London band
Kid Wave
yesterday and it instantly caught our attention thanks to the warm indie-rock stylings and the terrific vocals which could be the marker that sets them apart from the pack. We don't have a great deal of information, in fact 'All I Want' may well be their debut single. We'll bring you more when we have it, but until then, name your price, download and enjoy; all three tracks on this single area ace. The first taste of a band full of potential.
Kid Wave's
website
Stream or buy the single in full
For more news, reviews and downloads follow The Sound Of Confusion on
Facebook
or
Twitter
soundofconfusion@hotmail.co.uk