Album review by kev@thesoundofconfusion.co.uk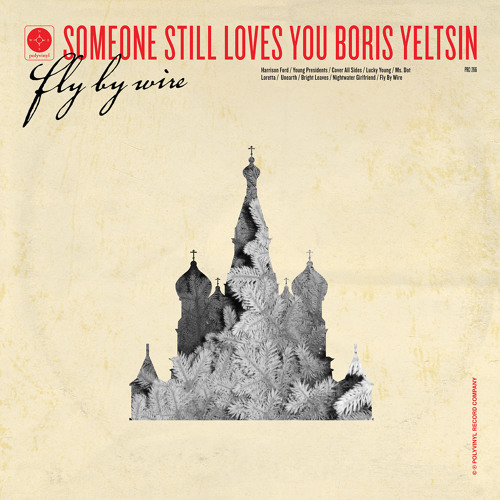 Maybe it's because they're from Springfield (Missouri, but as The Simpsons don't specify which state, let's pretend it's this one) that
Someone Still Loves You Boris Yeltsin
chose such an unusual name, but it's paid off. Perhaps not realising the (what we assume to be) irony of their name, the band were recently invited to the Boris Yeltsin Foundation in Yekaterinburg where they met members of his inner circle, were gifted expensive vodka (natch) and played in front of a local school. It may have been a slight culture shock for the pupils, but with new album 'Fly By Wire' the band don't push extremes or steer towards the avant-garde; this is comparatively easy to listen to indie/pop music. Yes, it's alternative to a point, but it's hardly challenging, not that it needs (or tries) to be.
Much of the so-called "alternative" music world is creating songs that blur the boundaries between indie, electro, alt-pop and more, so in doing much the same with 'Fly By Wire', the band are fitting in perfectly with current trends/adding to the surplus (delete as appropriate). What's given Someone Still Loves You Boris Yeltsin such longevity (Wikipedia tells us they formed in 1999 with the first release appearing in 2004) is that they write very good songs. Sometimes music really is that simple. They're no longer new, cutting edge or particularly different, but pick a few of the tunes here, let's say the poppy 'Harrison Ford', 'Cover All Sides', 'Unearth', and single 'Nightwater Girlfriend', and they're all of a high standard. You could perhaps say that 'Bright Leaves' takes them that bit too close to 'Hey There Delilah' and the like, but it's a minor quibble and a one-off.
All that 'Fly By Night' is really lacking is that knockout blow, that irrefutable classic that will be remembered long after the year is out. That said, they come close many times and when it comes to consistency you'll struggle to find much wastage. The soft-around-the-edges dreampop of 'Lucky Young' is lovely, the change of direction that's ushered in by the sharper beats and acoustic picking of 'Ms. Dot' has some crossover potential and is an example of what skilled songwriters they are, and the very same could be said of 'Loretta'; these are universally good songs, perhaps none more so than the title-track. If you're into your metal of hip-hop you'll have little luck, but as a rule, music fans of many varieties will find 'Fly By Night' a very good (and surprisingly accessible) album.
Someone Still Loves You Boris Yeltsin's
website
Buy the album
Catch them live:
Oct 10 Mojo's, Columbia, MO
Oct 11 Record Bar, Kansas City, MO
Oct 12 Firebird, St Louis, MO
Oct 15 The Mill, Iowa City, IA
Oct 16 7th Street Entry, Minneapolis, MN
Oct 17 The Frequency, Madison, WI
Oct 18 Subterranean, Chicago, IL
Oct 19 Mike and Mollys, Champaign, IL
Oct 21 Marlin Room at Webster Hall, New York, NY
Oct 22 Great Scott, Allston, MA
Oct 23 DC9, Washington, DC
Oct 24 North Star, Philadelphia, PA
Oct 25 William Pitt Union, Pittsburgh, PA
Oct 26 Kobo Live, Columbus, OH
Nov 12 Pub Rock, Scottsdale, AZ
Nov 13 Soda Bar, San Diego, CA
Nov 15 Glass House
, Pomona, CA
Nov 16 Brick and Mortar, San Francisco, CA
Nov 19 Doug Fir, Portland, OR
Nov 20 Tractor Tavern, Seattle, WA
Nov 21 Neurolux, Boise, ID
Nov 22 Kilby Court, Salt Lake City, UT
Nov 23 Hi-Dive, Denver, CO
Dec 06 Dan's Silverleaf, Denton, TX
Dec 07 Holy Mountain, Austin, TX
For more news, reviews and downloads follow The Sound Of Confusion on
Facebook
or
Twitter
contact@thesoundofconfusion.com