Single review by kev@thesoundofconfusion.co.uk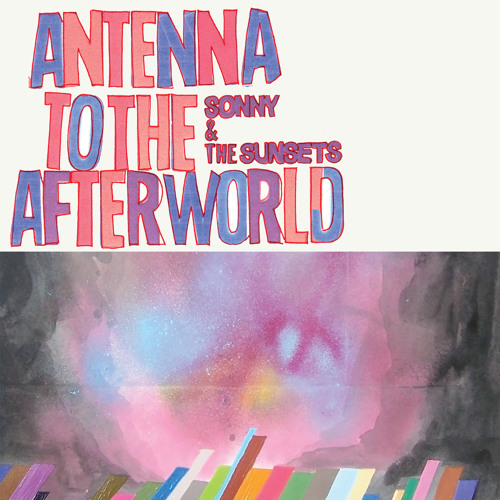 There's a very good reason why Californian indie/garage band
Sonny & The Sunsets
have called their forthcoming new album 'Antenna To The Afterworld'. Sadly a friend of one of the band was murdered, which naturally led to not only grief but thoughts of what happens next, and so Sonny Smith visited a medium who was allegedly able to bring Smith into contact with another friend who'd passed. These experiences, the emotions, the actions, the results, all went on to inform the writing of the record, set for release on June 11th.
The subject matter isn't immediately apparent on the album's first single, the chilled surf-rock of 'Dark Corners', and we can probably expect the subject to be tackled in a more straightforward manner on other songs. This song is as much about attempting to find his place in the real world, whatever that may be. The lyrics repeat
"I can't wait to find my little place in the real world"
. Is this existential crisis time for Sonny & The Sunsets? Given the circumstances surrounding the album's creation it could well be, but it's sure to be an interesting exploration.
Sonny & The Sunsets'
website
Pre-order the album
Catch them live:
May 17
The Satellite
Los Angeles, CA
Jun 13
The Outer Space, Hamden, CT
Jun 14
Knitting Factory (Northside Festival), Brooklyn, NY
Jun 16
The Smiling Moose, Pittsburgh, PA
Jun 17
Mahalls 20 Lanes, Lakewood, OH
Jun 19
Radio Radio, Indianapolis, IN
Jun 20
The Lager House, Detroit, MI
Jun 21
Beat Kitchen, Chicago, IL
For more news, reviews and downloads follow The Sound Of Confusion on
Facebook
or
Twitter
contact@thesoundofconfusion.co.uk