Album review by jay@thesoundofconfusion.com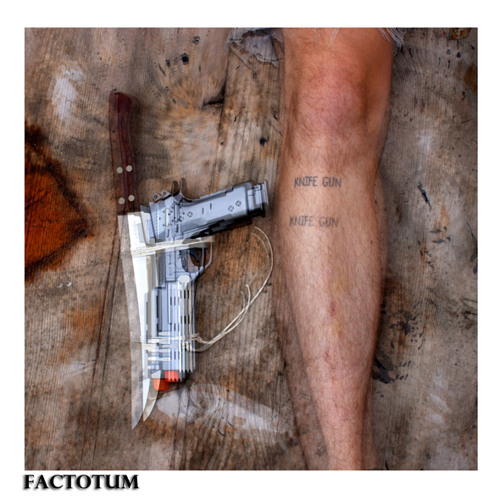 If the devil has all the tunes then
Factotum
must have got down on their knees and given him deep head to come out with such a set of blistering raw tunes that are housed in the hairy-assed behemoth that is their album 'Knife Gun'. It starts as all albums like this should, with a track that is just a blood-curdling howl of their name with a snatch of the garage drums and guitar. It echoes through your soul before your are taken into 'Wurlitzer' with snake-hips and diamond eyes. It has moonshine and lycanthropy coursing through its veins. Built on a southern-fried guitar and breaks so deeply grooved and loose-limbed that you fear an appendage my flail off in synchronicity. 'Wurlitzer' dissolves in a bubbling haze of reverb and soul, (r)evoking the blues from Ledbetter through Pussy Galore and Royal Trux to fellow duo Bite the Buffalo and a certain White Stripes. 'Melt' does what is says on the tin, and with white-hot, stomping, glam-tinged riffage it sears itself in your flesh, branding you forever. But you don't give a fuck and wait for the next shot to get you up again.
Wait no more, as 'Minute' draws you in like Selma Hayek draped in an albino python in the Titty Twister. This is sex on white lines in the hottest, stickiest night, all revolving around the most Jurassic-sized beat to hit you up since a T-Rex danced in Castle Park. 'Power Jam' stops to let you know its name, then fucks off with a finger in the air. Wrapped in snakeskin coat and crocodile shoe, with the hoariness of Jerry Lee Lewis' quiff and the crust off Geezer Butler's mo, 'Red Dust' drags you down into the swamp, coating you in an irresistible sludge so deep that you feel embryonic with a hard on. Now I am smiling and have just found the best line ever. Fact. And it is also the next beast on 'Knife Gun'. It will be one of those things that you will remember always. And the song, it works on the parts it's meant to and will have you swinging like Dirk Diggler on steroids. Your blue steel stare will crush things into dust, your beard will grow its own libido, you will never watch Top Gear again. That is the power of this song. (Google the title.) 'Hey Hey Hey' starts with a siren's call to arms and more of those devil-indebted vocals. It gets your foot tapping so much that you will develop Factotum tourettes if you listen more than ten times a day.
Then we are just a body at the mercy of the bastard child of Iggy and Mark Arm while snorting the essence of Cramps, as 'Ruin My Trip' takes over you, nay, conquers you and puts its tongue down you and tickles your pyloric sphincter. It grows like some mutant beast and is the most addictive hit on 'Knife Gun'. Then it covers you in a riff and drum that Cobain and Grohl lost after 'Sliver' and points you to epiphany (a nirvana?). Then the sun is setting, or rising, on 'Knife Gun''s party with final slide off the norm that is 'Gentleman'. It curls around you like sweet smoke from a Cuban wrapped on a virgin's knee. Then its final, fucked-up coda deflowers her and leaves her, you, us, a panting, lurching, horny, sweaty mess on mother's ruin floor. Enter 'Knife Gun' if you dare. You will leave changed, hopefully defiled, but smiling. Maybe...
Factotum's
website
Stream or buy the album
Catch them live:
Sat, Feb 22, The Stag and Hounds, Bristol, United Kingdom
Fri, March 21, Le Zorba, Paris, France
Sat, March 22, La taverne des gaulois, Saint-Laurent-Blangy
Thurs, March 27, The Bell Jar, Sheffield
For more news, reviews and downloads follow The Sound Of Confusion on
Facebook
or
Twitter
contact@thesoundofconfusion.com